It's hard to believe we're already here: the very last episode of Top Chef Canada season six. It's been a pretty shocking season to say the least, what with contestants returning to the game only to quit (oh, Nathan), frontrunners being sent home in a pretty dramatic fashion and some of the coolest and most innovative plates we've ever seen put out on this show.
That basically made it anyone's game heading into Sunday night.

Jinhee, Mark, Ross and JP remain out off 11 who began this journey
The episode opened with a brief reminder of this year's Top 4: Jinhee, whose Korean-inspired plates had Mark referring to her as the "silent assassin;" Mark, whose foams and bold flavours made him an early target; Ross, whose real-world experience in the kitchen rivaled any classically trained chef's; and JP, whose French training is something to be reckoned with. I don't think I've ever been this torn about who I wanted to win.
Learning From Your Mistakes
It seems the judges felt the same way. And so for the very last Quickfire challenge of the season (which also happened to be a double elimination), Mark McEwan, Eden Grinshpan and Janet Zuccarini were all on hand to taste the food. The task? To take a dish that put the chefs on the bottom and transform it into a winning plate. Talk about the past coming back to haunt you. None of the chefs were particularly pumped about the task, but they knew it was time to pull out all the stops if they wanted a spot in that final dinner service.

Jinhee's birch shrub and lemongrass-marinated duck with coconut red curry and frozen foie gras
Jinhee never really came in the bottom in terms of the Elimination Challenges, but as we saw during the food trend Quickfire in episode three, "frozen" and "coconut" were not her forte. So she recreated her dish by plating a coconut red curry and injecting it with frozen foie gras in a move that McEwan deemed genius. The plate's only downfall? The curry tasted a little too much like something the chef had previously served the judges.

JP's ravioli in brodo: chicken and chicken liver stuffed ravioli in clarified broth
For his part, JP had an epic fail in the Canadian farmer Elimination Challenge in episode two, despite his cool concept of what came first, the chicken or the egg. So he tried to recreate his Ravioli in Brodo by improving on the pasta's texture and making the stuffing itself tastier. Unfortunately, he still missed the mark and the pasta was slightly too thick for the judges' liking, which meant he was clearly on the bottom.

Mark's roasted lamb saddle with bread emulsion, blistered tomatoes and apricot relish
Meanwhile, Mark had failed to impress during the more recent pizza Elimination Challenge in episode six, so it was back to the dough for him. In an hour he whipped up a Roasted Lamb Saddle with Bread Emulsion, Blistered Tomatoes & Apricot Relish that impressed the judges so much they seemed giddy. It's not often you get to eat a deconstructed pizza at that level, I suppose. Give this guy all the points for creativity.

Ross's lobster bisque with butter-poached lobster, roasted corn and confit fennel
That left Ross, who was asked to recreate the lobster bisque he served up during the hockey Elimination Challenge, and this time he made sure to crush those lobster bones even harder to get the brilliant red colour (not to mention flavour) you want in a bisque. It was the ultimate redemption for East Coasters everywhere when the judges said he nailed it.
By the time the judges were ready to decide, it was obvious JP was going to be sent knives packing and that Mark was going to move on, but it seemed like a toss-up between Jinhee and Ross. Maybe they just wanted to see an East versus West coast showdown, or perhaps they were less impressed with Jinhee's curry than they let on. But the judges deemed Ross and Mark as the two finalists, which meant Jinhee had to say farewell to her brothers.
Goodbye, Jinhee. I'd still love to grab that glass of wine with you.
The Final Dinner

Mark and Ross listen to the judges before beginning preparation on the final challenge
It was poetic, in a way, that Ross and Mark should cook together at the very end. They made for a pretty cool team in the hockey challenge, and it was because of Ross's immunity that they were both left standing at the end. I guess Matthew was right after all when he predicted that Ross was one of the top competitors.
But that's the past, and we had a challenge to get to in the present: show the judges your personality on a plate. I'm always super jealous of these judges for getting to try so many yummy things during the competition, but the tasting menu in the finale always makes me the most jealous of all. It's like they're sampling so much fare they don't know what to do with themselves when I'm sure all of us at home would love a bite… or two.
This year, not only were Mark and Ross going to be whipping up a feast in the kitchen, but the judges asked season three winner Matthew Stowe and Ross's boss Jeremy Charles to come out and help the guys as their respective sous-chefs. That's a whole lot of star power taking over the kitchen at the OMNI King Edward Hotel.

Matthew Stowe (left) will assist Mark and Jeremy Charles (right) will help Ross
Right away both chefs realized how important their overall story would be in terms of impressing the judges with their food. For Ross, he wanted to showcase his Newfoundland heritage with simple ingredients that spoke for themselves. Meanwhile, Mark wanted to pay homage to his own Filipino roots, and in particular to his mother who left home when he was one to come to Canada. He didn't get to even meet her until he was eight, when he followed her to our home and native land. Now that's how you make it personal.
Ross's Menu
Anyhow, let's start with Ross's offerings, shall we? He literally put heart on a plate with his amuse bouche, which was a trio of moose heart tartare, whelk skewer and cod chitlin with capelin gold leaf. "We eats it all in Newfoundland," he and Jeremy joked as they assembled the bites.

Amuse bouche: moose heart tartare, whelk skewer and cod chitlin with capelin gold leaf
For an appetizer, Ross then moved on to a sea urchin and diver scallop offering that Janet said showed a lot of restraint—something that's sometimes harder to do in a competition like this than to go all-out.

Appetizer: sea urchin and torn diver scallop with dashi and dried seaweed
But what really seemed to be best-sellers for the judges were Ross' cod, and his wild hare and partridge entrees. When Ross poured sauce from that flower vessel they were falling all over themselves at how cute it was. It's no wonder Ross was chuckling to himself in the kitchen afterwards—that has got to feel pretty damned good at this point in the finale, no? All that was left was an equally innovative dessert, which was a roasted parsnip concoction that was just sweet enough to satisfy the judges.

First entrée: skin on pan-roasted cod with onion soubise, charred onions, leek and sea urchin beurre blanc

Second entrée: wild hare and partridge with partridge heart, artichoke purée, winter chanterelles and glazed beet

Dessert: roasted parsnip cream with parsnip chip, whisky-compressed apples and creeping snowberries
"This would be your worst seller but your best experience," McEwan declared of the dish.
Mark's Menu
Then there was Mark, who went for a totally different style (only two foams!) but was equally impressive in his offerings. He absolutely wowed the judges with his amuse bouche, a kusshi oyster with lightly smoked crème fraiche and pickled shallots to bring it all together. Every single one of the judges' faces lit up when they popped that thing in their mouths, proving that this was going to be one competitive final dinner service.

Amuse bouche: kusshi oyster with dill oil, smoked crème fraîche and pickled shallots
"I can't handle what he just gave us," Eden said.
"Oh my God you've got places to go," Chris Nuttall-Smith raved.
The highs kept on coming with Mark's deconstructed burger appetizer, which was a beef tartare with all the elements of his favourite burger, like charcoal mayo, toasted bread and tomato bacon jam. "It's just like eating a burger," Eden declared.

Appetizer: beef tartare with charcoal mayonnaise, tomato bacon jam, iceberg lettuce and toasted bread
Personally, I was curious how McEwan—the burger king—would respond to the dish, because isn't that the real challenge when you serve up a burger? Turns out he wasn't just impressed with the food, he said it also brought back memories of him eating burgers in the backyard. Chalk one up for Mark, folks.

First entrée: cured tuna with truffle soy, cilantro relish, crispy nori, salted cucumber and shaved white truffles
Where Mark stumbled was with his mains. Janet was critical of his tuna and "make it rain" white truffle shavings, claiming the flavours melded together a little too much. The other judges disagreed and said the flavours actually worked together quite well, but then again they didn't exactly rave about the dish either. As for Mark's second, the duck entrée? That was just all-right too and maybe even a little dry, according to the judges. Considering that dish looked like the simplest one Mark has put out to date, I have to say I was a little disappointed in it watching from home, too.

Second entrée: seared duck and scallop with rose petal xo, bbq jus and fried rice
That left Mark's dessert, which was an elevated take on Halo-Halo and another Filipino classic. It managed to put Mark back in the judges' good graces again, with Mijune Pak even declaring that Mark should open his own Filipino restaurant.

Dessert: Halo-halo with coconut sorbet, pandan syrup, coconut and grassroot jelly, toasted coconut and crushed iced tea
Well, yes—that's the idea, and why this guy entered the competition to begin with. He's been pretty clear about needing that cash to get out of the catering business and to open his own brick and mortar spot.
Canada's Next Top Chef Is…
With the eating aspect out of the way, and considering how well received both menus were, I still thought it was really anyone's game. McEwan himself declared that this was the toughest showdown ever, proving even further how conflicted everyone was. And while the chefs were supposed to be judged on this one service alone, I imagine you can't help but be influenced by past performances too. Mark was steadily at the top this whole time, while Ross stumbled through the first half of the season. That has to factor in, no?
Perhaps, but in the end, it was the Newfoundland chef who impressed the most, and Ross got to hear those magic words: "You are Canada's Top Chef." He quickly fell to his knees (as one does in that kind of a situation), realizing that his life had just forever changed.
Cue the biggest smile we've seen from the stone-faced chef all season long.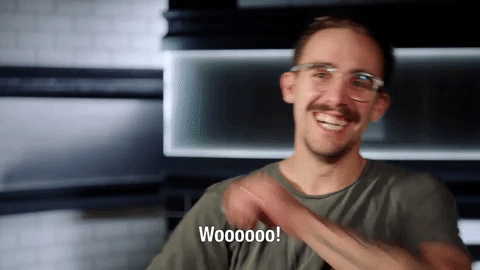 "This is a life-changing event for me because I believed in the food I was cooking," he said. "I never second-guessed myself… it paid off. This is for so many people. It's for my wife, for my son and myself… it's for everyone on that little island on the East Coast that kind of gets forgotten about."
"I was surprised it took Ross so long to get going because I knew he was a much better cook than what he was showing us," McEwan said. "He's kind of a shy individual, it just took him longer to get out of his skin and actually do it. And when he did, he was really creative. The finale meal was unbelievable. He was the clear winner and we said, 'We're not looking back on the rearview mirror. We're not analyzing.' He won the day."
As for Mark? It seems like he's destined to always be the bridesmaid and never the bride. At least in this season of Top Chef Canada.
"So close!" he said to cameras afterwards with his chin up. "I know I'm a good cook and that's why I am feeling like this is just the beginning… I can't wait for the next step."
"Mark is brilliant with making incredible flavours in tiny little dishes. You have one bite of his and there's more flavour a lot of the time in that single bite that you'll find in an entire meal from other chefs," Chris Nuttall-Smith said. "He's going to land extremely well… He's learning and waiting to see where can he go that will make a real impact. I have absolutely no worries that he is going to wind up doing something huge."
And just like that, another season of Top Chef Canada was in the books. Bubbly for everyone, y'all, because what a season it's been.