When it comes to the cooking competition that is Top Chef Canada, kitchen prowess is only part of the game. Okay yes, a contestant's culinary skills are what the judges are evaluating for the grand prize, but the impression a chef makes on viewers and on their fellow competitors counts for something too.
This year we asked each of the chefs to name who they think should win the title of Top Chef Canada Congeniality, and three chefs stood head and shoulders above the rest. So who, among the bromantic pals, goofy gals and dreamy studs (here's looking at you, Dennis) made the cut?
"It's a very hard question," Sebastien says. "Renee, Phil, Dennis and Paul… Benet too, he's an animal! I hope I get to do events with all the contestants from this season. It was great to meet chefs from all over Canada."
But while Sebastien split his vote five ways, the others made some loud and clear picks. In the end it all came down to Tania, Phil, and of course, Dennis. Let's take a look.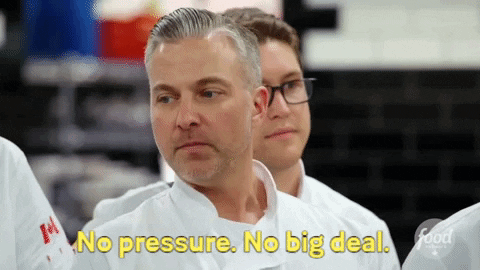 How can you not appreciate the Vancouver chef, with his impeccable facial hair and undying love for his mother? Phil won us over week after week with his high class dishes and even higher-class attitude. His cooking was no joke (he did make it all the way to the finale, after all), and we're still dreaming of his delightful-looking pasta, but he also connected with his co-stars.
"Definitely Phil Scarfone," Renee declares when making her picks. "He was always there to give me a hug and words of encouragement."
While we knew Tania's bubbly personality and ability to connect with her castmates made her a strong contender for this award, we also can't forget that time during Restaurant Wars when she offered to act as host… and then forgot the judges' orders. Somehow, she managed to recover from that gaff and still wow Mark, Eden and co. If you ask us, when it comes to the title of congeniality, that's just as telling as her knack for hobnobbing with her fellow chefs.
"Tania would have the Chef Congeniality," says Erin. "She is an amazing chef and person, and always has a positive outlook."
"I would vote for Tania because she is just someone you want to hang out with!" adds Wallace.
See more: Tania Ganassini on How to Embrace Zero-Waste Cuisine
"Dennis, for sure. Those eyes, that hair…" Phil jokes about picking Dennis for Chef Congeniality.
But seriously, suave looks aside, Dennis certainly bonded with his share of contestants during his time on the series. We even saw him crash Paul's house recently for dinner and a viewing of the show on Paul's Instagram stories. (No wonder Paul voted for him too!)
Even more telling? Of all the chefs on the series, Dennis captured Benet's vote too. Considering Benet and Wallace were brothers (save that awkward carnival challenge), that's kind of a big deal.
And the winner is…
Tania!
That's right, the plant-based chef may not have made the judges' stomachs sing in every challenge, but she definitely managed to capture her fellow competitors' hearts. While Dennis amassed four full votes and Phil edged in with a few mentions, it was Tania who nabbed five full votes and walks away as this year's most congenial chef.
It sure was close, huh? But hey, even Dennis doesn't have any hard feelings. After all, he also voted for Tania.
"Most all of the chefs were mean or rude to me out of jealousy for my good looks, and piercing blue eyes," he says. "But if I had to pick one chef it would probably Tania… terrible dancer, great chef, better person."
We couldn't have said it better ourselves.