Every year July 1st, I catch some of the festivities of the Canada Day celebration in my city. They have a large open fire salmon barbecue at the centre of the festival grounds surrounded by many vendors selling lemonade, fresh kettle corn and cotton candy. My favourite part of the festivities is the pie-by-the-slice fundraiser inside the local community centre.
There's always quite a large selection; pies made with plump local blueberries or Okanagan peaches are always popular choices. But my go-to has always been the strawberry-rhubarb. There's just something so irresistible about the combination of the sweet and tangy pink filling and the (optional but mandatory) à la mode, that keeps me going back year-after-year. So here's an ode to my favourite July 1st treat, with an added Canada Day-inspired touch.
Canada Day Strawberry Rhubarb Pie
Prep Time: 30 minutes
Chill Time: 60 minutes
Cook Time: 50 minutes
Makes: One double crust 9-inch pie
Ingredients:
Crust:
2 1/2 cup all-purpose flour
1 tsp salt
1 Tbsp granulated sugar
1 cup cold butter, unsalted, cut into 1/2-inch pieces
1 cup cold water
4 Tbsp cider vinegar
1 cup ice
Egg Wash:
1 egg
Coarse sugar
Filling:
5 cups chopped rhubarb, trimmed and cut into 1/2 inch pieces
3 cups strawberries, halved
1/2 cup brown sugar, packed
1/3 cup granulated sugar
1/2 tsp lemon juice
1 tsp cinnamon
1/4 cup cornstarch
Directions:
Crust:
1. In a large bowl, stir together flour, salt and sugar. Set aside.
2. Add the butter pieces and coat with the flour mixture using a bench scraper or spatula. With a pastry blender, cut the butter into the flour mixture, working quickly until mostly pea-size pieces of butter remain (a few larger pieces are okay!).
3. Combine the water, cider vinegar and ice in a small bowl.
4. Add 2 Tbsp of the liquid mixture over the flour mixture. Mix and cut it in with bench scraper or spatula until fully incorporated. Continue adding the liquid, 1-2 Tbsp at a time. Mix until the dough comes together in a ball.
5. Shape the dough into 2 flat discs, wrap in plastic, and refrigerate for at least 1 hour.
Filling:
1. Prepare the rhubarb and strawberries. Set aside.
2. In a separate bowl, combine sugars, cinnamon and cornstarch.
3. Toss together the fruit and dry mixture. Add lemon juice and combine.
Assembly and Baking:
1. Once the dough has chilled, roll out the dough in between two sheets of parchment and fit it on the pie plate.
2. Line pie pan with rolled out bottom crust.
3. Roll out top crust. Using a maple leaf-shaped cutter, punch out maple leaves into the rolled out top crust. Save all the maple leaf cut outs to use for decorating the edge of the pie.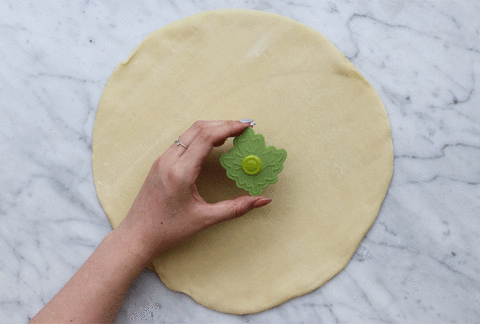 4. Pour filling into the bottom crust, leaving behind any excess liquid from filling.
5. Gently place on top crust. Take the reserved maple leaf cut outs to create a border around the pie.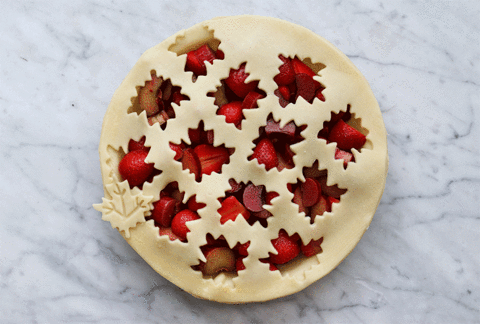 6. Coat top crust with a simple egg wash and sprinkle with coarse sugar. Place pie on a baking sheet before putting it in the oven, just in case any juices bubble over.
7. Bake at 425°F for 10 to 15 minutes, or until the pastry is set and beginning to brown. Lower the oven temperature to 375°F and continue to bake until the pastry is a deep golden brown and the juices are bubbling throughout, 35 to 40 minutes longer.
8. If the top crust is starting to get a little dark too quickly, place a pie shield on the pie.
9. Once ready, let pie set for at least 1 hour before cutting into it. Serve as is or with a big scoop of ice cream.
Looking for more inspiration? Try our 60 Great Canadian Recipes.
Watch this video to get Anna Olson's top tips on baking fruit pies.