In a sixth season that featured next-generation talent, Top Chef Canada ran the gamut in terms of competitors. But it was Newfoundland's Ross Larkin who rose to the top with his simple plates and bold flavours, taking down "mad-scientist" Mark Singson in the big finale. Not only did Larkin, the Chef de Cuisine at Raymonds, bring the win home to The Rock, but he proved that even a chef without formal training can impress judges with the right combination of ingredients, flavours and raw talent.
Although he faced elimination on several occasions (often with an immunity in his back pocket) Ross eventually went on a winning streak in the back half of the season and didn't look back.
We chatted with the chef about the pressure he faced after winning immunity, why Nathan Guggenheimer leaving the show surprised him most of all, and what he plans to do with his winnings.

Mark congratulating Ross on his win.
 What made you enter the competition?
A big part was my wife pushing me to do it.
Did you do anything special to prepare? Or more accurately did your wife make you do anything special to prepare?
Yes, my wife is a pastry chef here at Raymonds so I did some training with her. I built on the foundation of flavours more than methods and recipes. I memorized a couple of ratios for shortbread and things like that, but I'm not a trained pastry chef by any sense of the imagination so I didn't want to overstep my reach by doing all these things I knew I couldn't execute properly. I approached pastry in a way that I knew I could execute flavours that would meld well together and be comfortable in what I was doing. If you're not trained in desserts or have some sort of pastry background in your repertoire it's difficult. It's not like savoury cooking where you can kind of put things together and wing-it, so to speak. You need to know temperatures, you need to know ratios… you need to know a lot.

Ross in Episode 5 of Top Chef Canada
Did you learn anything from watching past seasons of the show?
I knew going into it that there's no real training, no real preparation that can get you ready for the mental side of things. We can all cook—everyone that was on the show is an amazing chef. Their skills are great and they're very talented. It's the time restraints, and the challenges, and everything you're not allowed to do that you can't train for. In your own kitchen, you're in your comfort zone. You know where everything is and how your kitchen flows and how your equipment works. Being taken out of that comfort zone is more than half of the show. It might sound weird to say, but I didn't think too far ahead, other than the challenge at hand. There's no point in thinking about tomorrow because you might not be there tomorrow. With what you know how to do, trust yourself, trust your instinct. We were all chosen to do Top Chef Canada because of the people who cast us, or the judges felt like we were the best to be there. They wanted to see what we had to offer and how we cook and who we are. That's what I did; I never changed the way I cooked or the ingredients I used. I never second-guessed myself one step of the way.
You bring up the mental aspect, which we really saw with Nathan when left this season. Were you surprised he made that decision?
Yeah. Nathan was my best man at my wedding. I worked with him in Saskatoon at Dale McKay's restaurant Ayden's Kitchen and Bar. I know Nathan and I know who he is. He's an amazing chef and his food is great. But he has so many ideas and so many thoughts running through his head that he sometimes has a hard time just picking one because he wants to do everything. He's thinking way too fast and his speed can carry him and it can get the best of him.

Ross' first entrée: skin on pan-roasted cod with onion soubise, charred onions, leek and sea urchin beurre blanc
Did you have a favourite challenge?
Even watching it now and trying to remember it, you're not focused as much as you wish you were. In the moment when you're doing it, I don't think I ever had a favourite, except the last challenge because those flavours were close to me and so close to home. I brought the island and what I love to the judges, finally. That was definitely my favourite meal, because I had control. I knew my ingredients, I knew what I was doing, I knew what I was using. It wasn't like, okay, how quickly can you make a dessert out of dried ingredients? I'll always go back to that one because that was… ridiculous. They're all tough no matter how simple people think they are. Yeah, it's only fried chicken but it's fried chicken on a fryer you've never used in a kitchen you don't know for Nicole Gomes, who has one of the best fried chicken restaurants that I know. It's not easy. Nothing was easy about the show.

Ross' amuse bouche: moose heart tartare, whelk skewer and cod chitlin with capelin gold leaf
If you weren't looking ahead, at what point did you conceptualize that meal?
When they told me I was allowed to source whatever I wanted, that's when I knew exactly what the menu would be. Other than that I remember talking amongst ourselves and some of the others knew what they were doing for the final meal. I remember thinking, man I don't know what we're doing tomorrow so I don't know why you're thinking so far ahead. But once it was known that this was the meal you're allowed to use whatever ingredients you wanted, like make a wish list, I knew what I was going to cook. I was going to cook food from the island.

Ross and his mentor Jeremy Charles putting the finishing touches on Ross' final meal
What did it mean to have your boss and mentor Jeremy Charles beside you to cook that meal?
That was like a day in the kitchen. By saying that it was like any other day cooking at the restaurant with Jeremy; it was a huge weight lifted. I knew then and there whatever the outcome was, it was going to be a great day. I was cooking with one of my friends, it was going to be fun, everything was going to be beautiful. We know each other. I've learned so much from him like less is more. Cooking simplistic, beautiful, ingredient-driven food is a major thing I've learned from him.
Let's talk immunity. Did you feel extra pressure once you had it?
Oh of course. As soon as it was bestowed upon me, immediately I could feel everyone look at me in a different way. Everyone was there to win, but then having this immunity, everyone really stepped up their game that much more. Once there was one immunity for the entire season and I had it and you could only use it within four other challenges, it was like you have a target on your back.
Matt Sullivan, in particular, kept gunning for you after that.
Yeah! [Laughs.] I had no idea! We're all there and friends and joking but you don't know what's going on in the interview rooms or what people are saying or thinking until we're all watching the show. It's like 'Wow.' Even my friends and family were like, 'Did you know Matthew was out for you?' I don't feel like he was out for me but like he said, he felt I was a threat and he wanted to make sure that was known. It was funny because he sent me a text and he was like, 'You must hate me.' I don't hate anyone. It's a competition and I think sometimes people forget that. It's like this is a competition, we're all friends walking away from it, but going into it everyone wanted to win.
Was it like Murphy's Law that once you had the immunity you wound up on the bottom three times?
I'm going to say yes, I'll take that. That was more than ironic I guess. The first time I didn't use the immunity, I just knew. I knew what I cooked, I stood by it and didn't second guess myself. Even if I was eliminated on that challenge I would have been eliminated happy with what I did. I wouldn't serve food that I wasn't happy with, so I just felt that I was happy and confident with what I did and that it wasn't the worst dish of the day. The second time, for Restaurant Wars, I was the team captain (chosen by Matt) and you can't do that to people—in whatever reality you're in. You're the team leader, you're the captain, you go down with the ship. You don't throw your teammates or coworkers under the bus because you have this immunity card. That's not a real thing. Karma is a real thing and that will get you. You just don't treat people like that.
Was it a no-brainer when you did use it?
It was the last time I could use it, so why not use it as a strategy to send two people home and ironically save the two people that went to the final? Unfortunately, I had to send home two great chefs. Being in the situation, not knowing about Matt, it wasn't my thought to use it as a strategic advantage against him; I wanted to save myself and my partner.
What does it mean for you to bring this win back to Newfoundland?
It's huge. Being the only chef on the show from the Atlantic provinces, winning by making the actual food I do and ingredients that are only available to serve in Newfoundland is huge, it's major. Newfoundland is still pretty young but it's also old in a sense where we know our heritage and where we came from. The ingredients I use and food I make is food I grew up with. I grew up hunting with my dad, I grew up berry picking with my grandmother and now it's come full circle. It's simple food. It's local and fresh and organic and beautiful.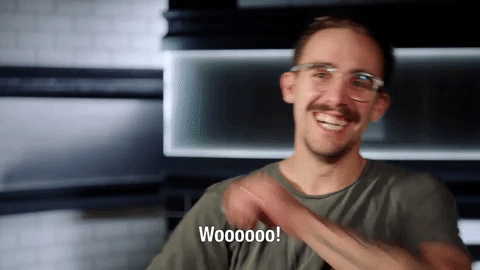 What has Jeremy Charles thought of the win?
He thinks it's great. It's great for me, for Newfoundland, for the island, for the food we make.
How will you use your winnings?
I have no idea. I haven't thought that far ahead. I should. I'm sure I'd save some and I'd love to take a holiday. That probably won't happen in the middle of summer. Realistically I don't know. Everything is about timing. Right place, time, people. I'd love to open a restaurant but it's all about timing. We're not going to rush into anything.