In order to appreciate how far you've come, sometimes you have to look back to the past. That seemed to be exactly what the remaining chefs were doing heading into Sunday night's penultimate episode of Top Chef Canada; with Darren eliminated that meant things were really going to heat up for the Top 5 and they knew it. Each one of them reflected as much to the cameras as they pondered what winning this thing would actually do for them, especially Jinhee, as she reminded us all what a win would mean to her.

The remaining five chefs; only four will move onto the final episode
But there's a time for reflection and there's a time for action, and with a Quickfire to get to there wasn't much time for reflection. Not when Eden Grinshpan and guest judge Amanda Cohen (of New York City's Dirt Candy restaurant) were ready to sample some special French fare.

Amanda Cohen joins Eden Grinshpan to judge the Quickfire Challenge
But Make it Vegan
When you think of French cuisine what comes to mind? For me it's creamy, buttery goodness, rich, meaty textures, and of course robust flavours (why do you think it pairs so perfectly with wine?). What French cuisine is not as well known for is its plant-based goodness. But with a vegan master like Cohen ready to judge the challenge, of course that was the Top Chef Canada twist of the week.
Obviously, none of these carnivores were impressed at the thought of turning things like tartare and coq au vin into delightful vegan plates. Ross basically called it an oxymoron when he was asked to create a vegan foie gras parfait, while Jinhee's face at being tasked with a vegan beef bourguignon was pretty much the entire reason to tune into the show. In fact, only Mark seemed excited about the prospect of a plant-based dish, because it's something he does all the time through his catering company.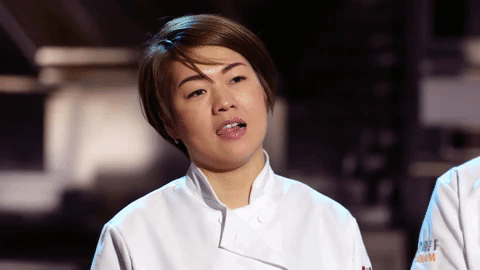 The challenge left Jinhee almost speechless
One thing that everyone seemed to be able to agree on is that after having gone through a competition like this and surviving each dish together, this fab five felt more like a family than ever before. Jinhee even began referring to the other guys as her "brothers," solidifying how they all felt about one another. In a world of cut-throat competition shows, it's nice to see one in which the contestants genuinely seem to have one another's backs, isn't it?

Mark's Vegan Coquilles St. Jacques: seared potato, potato skin jus, chive oil, white wine onion foam and torn bread
Anyhow, the level of innovation was pretty freaking spectacular. As someone who totally subscribes to eating more of a plant-based diet on the regular, I'm a total trend-follower in that regard. But that doesn't mean I make good vegan food—usually, my creations are watery dishes with lots of beans and disappointed faces at the dinner table from Hubby and Toddler. So every single one of the dishes these chefs put out really impressed me. I thought it was pretty cool how Mark used seared potatoes to look like scallops, while Ross's mushroom custard sounded ridiculously delicious. JP managed to piece together a really cool "tartare" of plum and beets that I'd kill to try, and Jinhee's mushroom concoction turned out to be pretty fancy looking too.

JP's Vegan Steak Tartare: marinated plum & beet tartare with horseradish tarragon aioli and charred bread

Jinhee's Vegan Beef Bourguignon: roasted lobster mushrooms, maitake mushrooms, carrots, potato confit in mushroom stock
But while all of those dishes were fine and fancy, it was good old Nate, who once again went into this thing with little confidence, who managed to come out on top with a rustic offering of "Champignons Au Vin." The flavours completely impressed Amanda Cohen—who declared that all of the chefs nailed this thing, by the way—and Nathan finally landed the big W after being in the Quickfire bottom every week since his return.

Nathan's Vegan Coq Au Vin: roasted maitake mushrooms with portobello and porcini mushrooms and root vegetables
Sorry Mark, your own streak of making it to the top but never winning continues.
"Boom, I'm on top! It's great… I was aiming for the middle," Nathan told the cameras afterwards.
Bottle of Red or Bottle of White?
Unfortunately for Nate, he didn't have long to celebrate, not with an Elimination Challenge to get through. And what an Elimination Challenge it was—not only would the winner get an all-expense paid trip to Napa Valley, but he or she would also secure themselves a spot in the finale. You could feel the tension mounting.

Top Chef Canada: All-Stars' Dustin Gallagher
So how do you get a group of tense chefs to relax? By bringing in Top Chef Canada: All-Stars runner-up Dustin Gallagher, of course. He waltzed into the kitchen with that signature smile as a guest-judge for the big challenge: to create a canope that pairs with a Beringer wine. Dusty won this same challenge last year, so he was able to give the chefs some sage words of advice: keep it simple. Easy words when you're also trying to impress a boatload of judges with just one fancy little bite, if you ask me.
Even though Nathan had the advantage of selecting which wine he'd pair with his dish (pinot, because that's what he "drinks the most of"), you could tell he still wasn't really on his game. Anyhow, Nathan decided to prepare a chicken and foie gras canape, but even before he was putting it out he was asking Ross whether he should add more parsley. Don't get me wrong, I love that these guys are willing to help each other out, but at this point in the game Nate should be confident in his own skills. He's there for a reason.

Mark's Kilawin: ahi tuna with XO sauce, cilantro jus, apple kombu relish, crispy nori and smoked oil
Mark was certainly confident, in a mad scientist meets Top Chef Canada kind of way. It really looked like things could go either way for him at McEwan Foods, when he spent so much time waiting in line at the seafood counter that he barely paid attention to the rest of the things he threw in his cart. As a result, for the first time that I can remember in the show's history, a contestant was over the limit at the checkout and had to actually put some stuff back. See that? Those numbers aren't just an empty threat.

Ross's scallop crudo with grilled pear, apple, thyme jelly, cucumber foam and smoked scallop roe
Actually, huge kudos to the entire editing team in general on this episode because I would have bet it all on Mark going home. Between the disaster at the grocery store and then Mark McEwan's advice that the chef needed to add a little more punch to his tuna dish because it wouldn't stand out against the wine pairing, it looked like Mark's risks wouldn't pay off. So it was a huge surprise when he was named the night's overall winner (Dustin declared his dish even made the wine taste even better), landing himself a trip to Napa and an immediate spot in next week's finale. Also on top was Jinhee, whose red wine and pork pairing was unexpected and delicious, according to the judges. In fact, Mijune Pak called the sauce she served it with "MSG 2.0." In a complimentary sort way. Meanwhile, Ross took a page from Mark and served up a cucumber foam with his scallop crudo, resulting in McEwan declaring that Ross has finally found his sea legs. It's about time, if you ask me. I've been curious what Matt saw in him as his hardest competitor.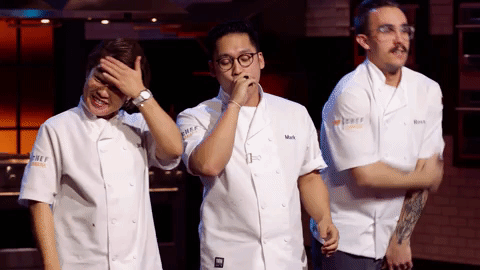 It's genuine happiness (and relief!) when Jinhee, Mark and Ross found out they're going to the finale
Oh. Nathan.
That left Nate and his chicken meat log, and JP, with his basic duck magret, in the bottom fighting for their lives. Or at least I thought they'd be fighting for their lives; as it turns out Nathan was just plain old ready to fall on his sword.
Before the judges could really dig in and criticize either dish, Nathan asked to speak.
"I would like to disqualify myself from this competition," he said to the shocked faces over at the judges' table. "I know I've struggled, and it's not just cooking. It's mentally. There's been a lot of things that I've put up that I'd never, ever put up. Even when I've won I haven't been happy or satisfied with my dish."
Talk about a shocker, huh? Okay so maybe not a complete shocker, given that Nathan clearly has been struggling, but why would he just opt out before the finale? Especially since I'm pretty sure someone like Felix or Ivana would have killed to be in his spot.

Nathan voluntarily withdraws from the competition; JP can't believe what he's hearing
Even JP seemed upset by the decision, noting that he didn't feel like he had earned a spot in the Top 4. McEwan was quick to reassure him, but I understand his feeling like he'd won by default. Let's just hope he moves on and proves himself next week when the real prize is officially on the line.
"Nathan put so much heart [into it], he doesn't know where to stop," Mijune said afterwards. "You end up just getting something that's super confusing as your end product and that's not what you're about or what you wanted to present… If Nathan worked at finding his voice and what to listen to from others and [to strike] that balance between what people are telling you to do and what you actually want to do, that is something that he would benefit from hugely."
Sadly, it obviously won't be on a reality show where we can all see it.
"I do apologize for doing this but at the same time it wasn't making me feel good in my own self," Nathan said following his elimination. "To me, that was more important than any money could possibly offer me. I just couldn't go on. I feel happy even though there's a lot of people around me that are very sad. This was me, this is my choice and it was my time to just sort of move on."
What. A. Game.
And just like that, we're almost at the end. The Top 4 return one more time next week for the final showdown. At this point, it feels like anyone's game.