You don't get to be one of the Top Chefs in Canada without learning a few basics along the way, so in that vein the latest episode of Top Chef Canada was all about bringing the chefs back to the beginning—fried chicken and classic pizza beginnings, that is.
This episode picked up following last week's shocking double elimination, in which Jesse and Matthew were sent packing. The elimination proved that anyone could go home anytime for one bad plate, but while the remaining chefs seemed shocked at Matt's departure, it also gave the Top 6 a little more spring to their steps. Mark flat-out admitted that Matt being gone gave him a better chance in this thing, while Darren told cameras the game has changed.

Every one of the chefs was excited to see last year's Top Chef Canada winner
Winner, Winner, Chicken Dinner
That didn't mean the remaining chefs could just phone it in though. With no more immunity on the table and a Quickfire to get out of the way, Eden Grinshpan introduced the next task: to recreate a Top Chef Canada version of a classic fried chicken, complete with one side dish. Cue saliva glands around the country, folks, because who doesn't love a piece of perfectly fried chicken? Well, vegetarians and vegans, obviously. But apparently also Jinhee, who made as much known to the cameras after the challenge was announced. I really love how that woman doesn't hold back.

Welcome back, Top Chef Canada: All-Stars winner Nicole Gomes! 
To judge the dishes (and to potentially inspire the chefs as they head into the home stretch), Eden welcomed Top Chef Canada: All-Stars winner Nicole Gomes back into the kitchen. Since her time of making it rain in the Monogram Kitchen, she's gone on to open Cluck N Cleaver alongside her sister Francine, and if you're ever in Calgary I hear there's no better place to eat fried (or rotisserie) chicken.
I forgot how much I love watching Nicole and hearing her candid remarks, which she brought back in full while judging the Quickfire Challenge. She and Eden were kind of the dream team, with Eden noshing on the chefs' offerings using her fingers and doing her version of the chicken dance, and Nicole joking about wearing her stretchy pants. I smell a chicken-loving spinoff, folks.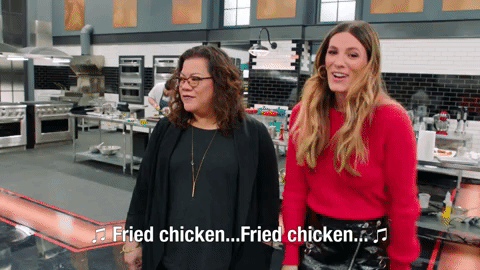 Anyhow, it was clear right away that some chefs nailed this thing while others were just destined to run around like a chicken with their heads cut off (sorry, I had to). JP had a good base with a basic buttermilk batter, but he burnt it and wasn't fooling anyone with his dusting to hide the fact. He knew it too, which was probably why he was so angry at the whole situation. Meanwhile, Nicole declared Nathan's batter to be thin and his double-fried chicken dry, which will probably lead the chef to reconsider the way he does it in his restaurant in the near future. Poor Nathan. And I here I thought he might finally be done double-guessing himself.

Mark's Seven-Spice Buttermilk Fried Chicken with Waffle Emulsion, Charred Shishito Peppers and Corn Salad
Not all of the dishes were bad though. Mark zigged with his waffle emulsion while almost everyone else zagged with some sort of a slaw for a side. Nicole also declared his chicken to be perfectly breaded. While Mark certainly impressed, it was fried-chicken-hater Jinhee who surprisingly came out on top. Her chicken with an anchovy glaze was a homage to her mother, who never approved of her being a chef. Jinhee revealed to cameras that she hid her job from her mom for six whole years and that to this day her mom still hasn't tasted her food in her restaurant. That made the win a nice full circle, as it potentially proved to her mother that she does have the chops to make it in her chosen profession. Now if only there were an Elimination Challenge advantage or a cash prize to go with her win. Sadly, Jinhee only walked away with Quickfire bragging rights.

Jinhee's Fried Chicken with Anchovy Glaze and Mango, Carrots and Compressed Cucumber
It's Not Delivery…It's Top Chef Canada
But even those were short-lived, because next up was the Elimination Challenge, and one of the top six was about to be sent home. Cue the ominous music, y'all. The task at hand? To create a memorable, Top Chef Canada calibre pizza with an international flair, and then to pair that pizza with two complementary sides. Did I mention the taskmasters behind-the-scenes were a little fast-food obsessed this week? It made me pretty damned hungry because that kind of food I do have access to at my fingertips.
Related: Go behind the scenes to learn how challenges are created
To find out which country the chefs would be representing on their pizza, the six had to select cardboard pizza boxes. Once again Jinhee, whose face said it all when she picked India, was clearly not pleased with her selection and revealed she'd only ever made a couple of curries in her life. Does anyone else get the feeling that girl doesn't play much poker during her time off?

A blessing and a curse: picking Italy for the pizza challenge
Meanwhile, JP seemed equally scared to have picked Italy. While you'd think the country would be the perfect inspiration for a pizza, this week's guest judge, Evan Funke of L.A.'s Felix is basically renowned for his Italian food. So not only was JP facing the pressure of cooking for an Italian food master, but he knew Italian pizza would probably be judged a little more harshly by all of the judges, especially Janet Zuccarini who is a  AVPN certified Pizzaiola.
Related: Janet Zuccarini and Evan Funke's Felix Trattoria Up Nominated for Best New Restaurant
Conversely, Darren, a.k.a. the "Swedish Chef," really didn't seem to hesitate at picking Sweden for inspiration—not when he had his pickled-fish-loving grandfather to inspire him. I guess that's why he decided to top his pizza with a series of seafood selections, namely prawns and anchovies. Throw a few chanterelle mushrooms on there and his pizza was complete, along with his Swedish meatball (obviously) and pickled mackerel sides. Maybe Darren never actually watched The Muppets to realize what a terrible chef The Swedish Chef really is, but unless you're a hardcore lover of "slime on slime" (as Mijune Pak described the pizza), you're probably not going to be lining up for a slice of that unique concoction anytime soon… no matter where you live. The fact that Darren kept the bones in his pickled mackerel side for extra crunch really, really didn't go over well with the judges either.
Darren and JP present their pizzas to the judges
The self-proclaimed youngin' wasn't the only one who faltered though. Mark has been on a bit of a tear this season while trying to win some extra cash so that he doesn't go broke, but his Turkey-inspired spiced lamb "flatbread" pizza was so flat and dry the judges were masticating it. They were definitely not going back for seconds on that one either. As for JP and his Italian pizza? That was a  pass for the judges too thanks to the overly complicated way he approached it. Apparently, you a white pizza with potatoes and artichokes can fall flat by not seasoning the crust or adding enough olive oil, and then topping it with an arugula salad. I mean, obviously I can only see and dream about what that would have tasted like, but to be perfectly honest I would have been down to nosh on that. But that's why I'm not a judge.
Winner, Winner, Pizza Pie Dinner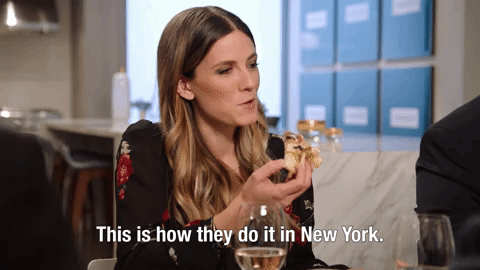 Actually, the judges (and Eden, who downed her 'za using her hands like a regular person) didn't have a lot of positive comments about most of the pizzas this week, proving that the classic dish is actually a lot harder to make than you'd think. Jinhee tried hard with her curry pizza and integrated paneer cheese, but the judges declared that it lacked flavour. JP's Italian pizza also lacked flavour and the judges didn't feel his meal represented Italy at all. Mark McEwan declared that Mark's pizza wasn't crispy.  Ross, whose German Speck, Onion, Mushroom & Gruyere Pizza (and potato salad and sweet fried rye bread) managed to capture their imaginations, making him the night's big winner and $5,000 richer.

Ross's German Inspired Pizza with Speck, Mushroom, and Gruyere
Experience Does Matter
Sadly, that meant Darren and his young blood was the one to say arrivederci this week. The guy had everything to prove as the youngest chef this season, and while he did really well by landing in the top six it looks like he won't be ultimately slaying that dragon and saving the princess anytime soon. I'm definitely going to miss his one-liners, video game references, and his overall antics in the kitchen.

Darren's last time at judges' table
"What I lacked wasn't talent, it wasn't passion… it was experience," he told cameras afterwards, with tears in his eyes. "You don't have to win to conquer something. That's what experience is, it's learning from your mistakes."
Well way to conquer my heart, Darren. Okay guys, let's add Darren to our list of Top Chef Canada: All-Stars season two contenders, shall we?
"He's a very, very capable young chef. He's at the developmental stage where when he's outside the element of the restaurant, he maybe didn't have enough to bring to the table to create his own, new story that day," Mark McEwan said. "He had his moments. I just think he needs a couple more years to really work on his base knowledge so that he has those instinctive skills and a repertoire to fall back on. That would give him better choices under pressure."
Speaking of pressure, next week the chefs are tackling another food trend: veganism. Is anyone else excited to see how Jinhee's face feels about that one? Personally, I can't hardly wait.