I wonder what was going through Nathan's head as he reentered the Top Chef Canada locker room on Sunday and found his things exactly where he left them after he was eliminated in episode two. The judges had no choice but to send him home the first time around thanks to his complete lack of confidence, but earning himself a second chance in this thing should surely bolster his mettle a little, no?
Related: Watch Nathan's Exit Interview After Episode 2 Elimination
It certainly seemed like Nathan was ready to face a new day as he put his jacket back on and sported that big, signature grin, but then again so were the other remaining chefs. Maybe it was just me, but with Restaurant Wars out of the way, everyone seemed to stride back into that Monogram Kitchen with purpose this week. It was almost like they were ready to spice things up with their newfound confidence.

The remaining chefs await the next Quickfire challenge
Let's Start With Dessert
In that case, it was a good thing the Quickfire challenge happened to feature a whole whack of spices from McCormick. Eden Grinshpan revealed the spicy task was to blindly pick two seasonings and then create a Top Chef Canada calibre dish showcasing them. The bittersweet twist? That dish had to be a dessert. You could physically see the chefs' spirits crumbling; if this season has taught me anything it's that most chefs would rather eat their own arm than make a dessert. And creating a dessert out of spices was just preposterous.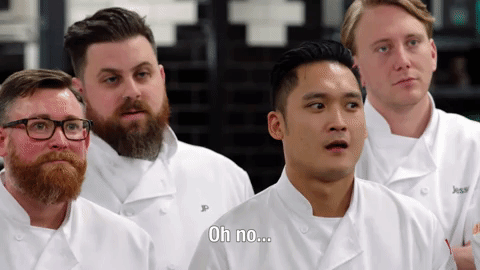 Mark says what every other chef is thinking
However, if you want to prove you're the best of the best, you've got to be able to do dishes of all different types, so these guys trudged along as best they could for Eden and this week's guest judge, Brandon Olson of CXBO Chocolates fame. (It didn't hurt that $5,000 from McCormick was on the line for the winner.) Brandon came decked out in his awesome banana button-down shirt to explain the importance of innovation when it comes to sweets, and how any regular old dish just won't do in this kitchen.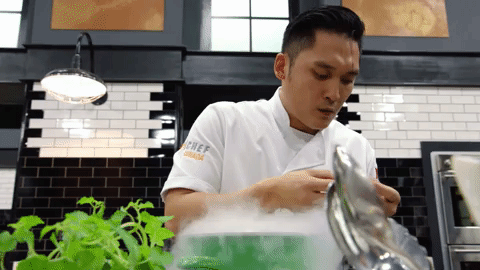 Don't try this at home
So, once again the chefs scrambled over one another to get to their stations first, gathering at the fridge and completely emptying the liquid nitrogen in their bids to make frozen treats. Some of them, like Mark, really went for it. Although he pulled the unlikely combo of rosemary and ancho chile pepper, he managed to impress Brandon with his Apricot Ancho Chile Purée with Rosemary Ice Cream, Shortbread Crumb & Fried Crickets. In fact, Brandon asked Mark if he had any pastry training, that's how good it supposedly was. Me? I'm still getting over Ivana serving up fried crickets two episodes ago. I don't care how high-protein or trendy crickets are, at the end of the day they're still fried bugs to me.
Ross's equally unlikely combo of turmeric and cilantro seemed impossible to work with (has anyone in the history of cooking ever purposefully used them together?!) but his Turmeric Shortbread with Cilantro Cream, White Chocolate, Sea Buckthorn Turmeric Sauce, Mango and Pear was tasty and elegant. It's hard to make the most of the strong yellow tint of turmeric, but somehow Ross managed to pull together a modern plate that Brandon said "brought it home without being overbearing."
Matt's Hat Trick

Matt's sriracha beignets, burnt orange jalapeno ice cream and caramelized banana with bone marrow caramel
But once again the night's winner was Matthew, despite the fact that Brandon actually choked from the heat of his jalapeno and sriracha pairing. He whipped up Sriracha Beignets, Burnt Orange Jalapeno Ice Cream and Caramelized Banana With Bone Marrow Caramel, pulling full inspiration from Brandon's shirt. Did you know that bone marrow could make for an excellent dessert? Yeah, me neither but there you have it. In this competition, anything goes, and Matthew proved yet again that he's a huge frontrunner in this thing; this was his third win in a row. He's certainly won more money than any other current competitor, at this rate, and I can't help but pull for him given that he's got a pregnant wife at home. Well, that and he's got everything to prove, considering he's more of a corporate chef than the others in this competition thanks to his gig at MLSE.
As for the other competitors, once again Jesse and Nathan found themselves in the bottom. Jesse's Chinese five-spice and smoked paprika dessert was entirely too smoky for Brandon, whereas Nathan's celery seed and ginger doughnuts were doughy and undercooked. Not a great start to his grand re-entrance, but as he said, "keep on trucking."
Toot, toot. Hopefully that means he'll finally stop over-thinking things?
Chefs Hit the Ice

Some of the chefs' skating skills were a little less impressive than their cooking skills
Anyhow, with the Quickfire complete, it was time to move on to the most nerve-racking part of the evening: the Elimination Challenge. As we've seen in the past four episodes these things are always stressful, but this week was particularly brutal because not one, but two chefs were going to go home. I suppose that's the Top Chef Canada gods balancing the scales after allowing Nathan back in; we've got an episode number to stick to, people.
It wasn't all doom and gloom though. How can it be when the chefs were asked to celebrate Canada's national pastime by teaming up to create post-game meals for the players, parents and coaches of a kids' league hockey team? Plus, the chefs had lots of inspiration thanks to the four signature Canadian proteins they were to implement in their dishes: Ontario pork, Atlantic lobster, Alberta beef or Pacific Coast salmon.

Jinhee's pork and tiger prawn dumplings with chili peach mango chutney

Nathan's soy-braised pork belly with fried rice and Saskatoon berries
For me, it was fun to see some of these teams being forced to work together. Jinhee was obviously not happy to have selected pork alongside nervous Nathan, but the guy handled her obvious concern in stride and in the end #TeamSweetheart (sorry Jinhee but that name is sticking) ended up working really well together. I'd eat Jinhee's dumplings anytime (not just after a hockey game) and I could practically taste Nathan's pork belly from the TV screen. Maybe we shouldn't count Nate out just yet, after all, working with Jinhee he really seemed to come into his own.

Teamwork is dream work: Jinhee shows Nathan how to pinch dumplings
Meanwhile, it was equally fun to see this season's jokesters, JP and Darren, team up and take their beef dishes in a different direction by invoking home-cooked comfort foods. Although I was unsure how a beef bourguignon would play in a hockey rink, JP nailed it with perfectly cooked beef and a savoury broth, and Darren's overindulgent meatloaf sandwiches had Mark McEwan singing his praises. That three-cheese sauce on the homemade bread must have met McEwan's "high performance" cheese standards, which these chefs are still joking about. Personally, I thought it was just cool to see that chefs can have fun in the kitchen together and still come out on top.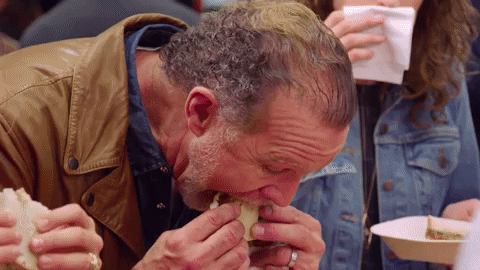 Given how different those two menus were, the judges must have been in a tough position. I thought it could have gone either way based on the comments, but I guess when Mijune Pak dances in happiness while eating your pork belly, you're probably going to be the winner. Sure enough, Jinhee and Nathan came out on top, giving Nathan the ultimate reassurance that he deserves to be in this competition after all. Now if only he could work with Jinhee every day. Maybe we could pitch a #TeamSweetheart web series?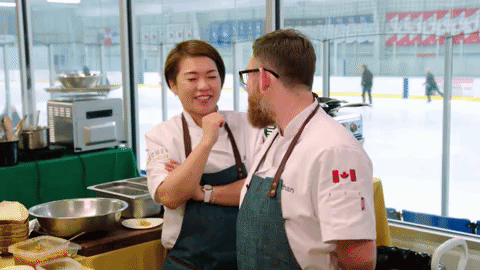 #TeamSweetheart celebrates with an awkward hug
With the winning dishes determined, the judges then set their sights on the night's worst offerings. Matthew, who has been on a huge winning streak, managed to impress with his Bibimbap salmon, but his partner Jesse really didn't think through his own salmon tartare. The dish felt out of place in the hockey arena (to be fair when does salmon anything feel right at a rink?), but he also loaded it up with so much salmon roe that it was completely over-salted. Even Matthew, who was so sure of himself heading into the challenge that he was swigging beer while prepping (hey, what goes better with hockey than beer?) agreed when pressed that it wasn't something he'd put on one of his MLSE menus. Poor Matthew… why did the judges have to put him on the spot like that? Obviously, he was trying his best to stick up for his teammate.
"He had a harder time putting ingredients together in a meaningful way," said McEwan of Jesse's performance in general. "Some [of the ingredients] he used were very creative, but it didn't necessarily work for me."
Then there was Ross and Mark, another completely unlikely match. It came out in the episode that all of the other chefs make fun of Mark for doing foams and using gadgets in the kitchen, which would explain why no one has been taking him seriously as a contender in this thing so far. But the dude continued to do his own thing with a poached lobster potato salad with charred garlic foam that positively lit up Chris Nuttall-Smith's face when he tried it, proving that the haters gonna hate but taste reigns supreme. Unfortunately for them Ross's lobster bisque just didn't do it for the judges though, and that landed the duo in the bottom.

Ross's lobster bisque was pretty but lacked substance
The Most Shocking Elimination Ever?
That meant both teams landed in the bottom, where they defended each other's choices in the face of elimination. And while I really wasn't sure which way the judges would swing on this one, Ross—who refused to use his immunity the last two weeks after finding himself on the bottom—finally used it to save himself and Mark from elimination. And why wouldn't he? This was the last challenge he was allowed to use it so he had everything to lose.
But what using that immunity meant was that Jesse and Matthew had to pack their knives and leave, which felt totally unfair given Matthew's performance. I really, really thought he was going to take this thing all the way to the end considering how many challenges he'd already won. I honestly thought the judges might take Ross's immunity back and send him and Jesse packing instead. Aren't they allowed to bend the rules in situations like this?
"I didn't see this coming, I was on a bit of a roll," Matthew said to the cameras afterwards, confirming everything that was running through my head.
"Hopefully I didn't make two new enemies," Ross added. "Having this immunity was a very sharp, double-edged knife. Unfortunately it sent home two great chefs, but fortunately, I'm still here."
That's all fine and dandy, I suppose, but you'll have to forgive me if I start mounting the campaign for Matthew's return in the next All-Stars season, should it come to fruition. As it turns out I wasn't the only one upset about his elimination. Janet Zuccarini, who wasn't present for the challenge, was also shocked to hear that he was eliminated when she returned to judge her next Elimination Challenge.
"I actually thought that Matthew could almost do no wrong. And he was on the top with almost every challenge," she said. "It was just a shock to learn… He understands what people want, but he also had this amazing ability to make the dishes super unique and have these twists, which I think is what you need to do when you're in a competition like Top Chef Canada."
Matt surprised head judge Mark McEwan with his skills and ability to thrive in the competition. "He cooked more like a hands-on restaurant chef than a corporate chef," said McEwan. "Kudos to him for being able to manage both those angles because neither one is easy."
Like I said, #MatthewForAllStars, y'all. But before then, we have a competition to get back to when the show returns next week. Judging from the previews there's a pizza party in store, so let's all bring our appetites.
Watch Matt and Jesse in their exit interview after elimination: