They say those who can't do, teach. But obviously whoever "they" are, have never met this season's remaining Top Chef Canada competitors. Because sometimes, teachers are actually the masters of their craft, and any student would be kinda psyched to have them.
Learning is Not a Spectator Sport
The latest episode of the culinary competition kicks off with the remaining eight chefs apprehensively stepping back into the Monogram kitchen, where mysterious dividers had sprung up at the cooking stations. The crew immediately knew something was up, and sure enough, Eden Grinshpan reveals that it is up to them to teach a culinary student a signature dish of their creation. The catch? They have to do so without actually seeing the chef or what he or she is doing. Talk about a blindside.

Jinhee teaches her culinary student how to make her dish
Obviously, communication was as much a factor in this challenge as the dish itself, which is why JP wanted to "get jiggy with it." The trick seemed to be picking a dish that wasn't too hard to make, but that also tasted great and could be easily described through a wall. Of course, the actual cooking wasn't the only challenge; there were other factors, like the language barriers for some, and then also the noise. The noise… the noise, noise, noise. As someone who can't stand numerous conversations going on around me, having people frantically shouting instructions is basically my worst nightmare. I would have been hightailing it out of that kitchen.

Elia can't quite connect with her student
None of the chefs had the same inclination to bolt, but Elia certainly felt the pressure. While she tried to teach her student the ways of Mexican cuisine, the poor guy really had no clue what was going on. At one point she was trying to pass him a bowl of ingredients and he wasn't even at his station, making for one of the most comedic moments of the series to-date. Jinhee had a tough time with her student as well, but rather than getting flustered she calmly talked it out and forgave the kid when she accidentally marinated her fish in the sauce rather than the juice, and in the end, the pair had one of the best—not to mention prettiest—dishes.

Jinhee's dish is on the left; her student's is on the right
But no one could compare to Matt, whose experience training staff and running kitchens through MLSE gave him a huge leg-up in the challenge. His Gochujang-Marinated Ribeye with Burnt Cauliflower and Mint Puree showcased enough technique to be of Top Chef Canada quality (unlike what I thought was an overly simple tomato salad from Ross,  which the student still under-seasoned), but he was also a pretty great coach to his student. If you think about it, his win (as determined by Mark McEwan and guest judge Rob Gentile of Buca in Toronto), basically foreshadowed what came next.

Matt's dish is on the left; his student's on the right
By the way, if you followed any of the previews leading up to the episode, you already know what came next: Restaurant Wars. Obviously, this particular Elimination Challenge is a favourite of all the participating chefs, because it's a chance for them to showcase their own menu and create a restaurant of their choosing. It's the "Big Enchilada," as Mark explained to the cameras.
Picking Sides
Matt's advantage for winning the Quickfire Challenge was being named the captain of the first team, and having the power to choose who would be his opposing captain. Once again, Matt gave Ross all the credit in the world and picked him, saying that Ross was his biggest competition. And once again, I'm going to point to Jinhee and Mark as two other competitors to watch in the coming weeks.
Speaking of Mark, the dude was the last one picked, which for the life of me I couldn't understand. The chef has been impressing since he arrived in the kitchen, which makes me think the others are underestimating him. That schoolyard pick twist wasn't the biggest twist though, as Eden made one more announcement: Felix, Nathan and Ivana all had the chance to return and get themselves back in the game. The captains were to pick one extra player, and if their team won the challenge then that player would re-enter the kitchen as though he or she never left.

To add more stakes to this challenge, culinary legend Ruth Reichl (pictured right) is the guest judge for Restaurant Wars
Holy high stakes, Batman. And because that wasn't enough motivation, the chef who created the best dish of the night would also take home $10,000 from Interac. If I were Ross and Matt at that point, I'd be pretty smart about who I picked to round out my team. Matt immediately asked Nathan to join his team of JP, Jinhee and Darren, while Ross asked Felix to join his roster of Elia, Mark and Jesse. That meant poor Ivana was left in the dust again, without even the chance to cook her way back into the competition. I guess they figured they already had desserts covered?
There is No 'I' in Team
With that business out of the way, it was time to get into it. Right away you could see the difference in leadership styles between Matt and Ross. Matt solicited opinions from his team (like their name, Alloy), whereas Ross told everyone they were going with "Henry's" as a team name because it was his grandfather's. Matt wanted to put together a cohesive menu that featured Canadian ingredients with a slight Asian flair, whereas Ross told everyone to make whatever Canadian food meant to them. Not to be negative, but it was pretty obvious that Team Henry was the one that was going to go down.
And go down they did. At resident judge Janet Zuccarini's Gusto 101 restaurant, for judges Zuccarini, McEwan, Grinshpan, Mijune Pak and guest-judge Ruth Reichl, Ross opted to let Felix do the front of the house gig while naming Jesse as his executive chef. In turn, Ross opted to do two dishes, but they kind of flamed out. To be fair, his main course of seared lamb was decent, but the judges were completely hung up on how salty his Cod Sound and Pil Pil amuse bouche was. (Who knew you could eat fish bladders anyway?) It was like they didn't have enough water at the table to go around, judging by some of the salty comments they shared.

Team Alloy leader Matt prepping his dish in the kitchen before heading to  front of house duties
Meanwhile, Elia decided to pair tuna with blueberries and passion fruit for some strange reason (never would I order that combo on a menu… ever), and Felix dished up a savoury broth that somehow ended up tasting sweet. Seriously, I have no idea why these guys couldn't get it together because it seemed like bad piled on top of more bad. To make matters worse, Elia also served up a green mango ice cream with chocolate that no one at the table wanted to eat, making her 0 for 2 for the evening. If it weren't for Jesse's panna cotta and "underdog" Mark's sablefish, I believe the judges might have just gotten up and left.
The Dream Team
That meant Team Alloy (or Team #BringBackNate) didn't have to do much better, but it seems like their cohesive menu was in fact much, much better suited to these judges' taste buds. Jinhee created this tapioca squid ink cracker that Ruth Reichl adored, while McEwan was completely raving over Darren's fried chicken and caviar amuse bouche (and here I thought McEwan was just a burger guy).

Jinhee's beet and beef tartare with squid ink tapioca crisp
Mijune was tickled pink at Matt's "smart" red fife noodles with lobster and bacon and kimchi (obviously Matt used his favourite ingredient, kimchi), while McEwan admitted that he ate the entire short rib Nathan served him. That latter dish was my favourite, because it finally showed what Nathan can do when he isn't up in his own head.

Nathan's ginger and soy-braised short rib with butternut squash puree and kimchi
In fact, the best part about Alloy winning the Elimination Challenge was the fact that Nathan gets to return to the show, and hopefully this time around his nerves won't get the best of him.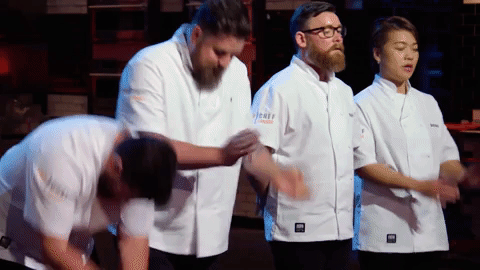 What redemption looks like
As for the winning dish? Well, that went to Matt, despite the fact that he kind of falsely advertised his pasta as a surf and turf. Hey—the buds want what they want and that was one tasty dish, said the judges, proving the theory that bacon makes everything better. And because Matt's that great of a guy, he gave each of his other four team members a thousand bucks for all of their hard work and commitment. "I wouldn't be here without them," he explained. Now that's what leadership looks like, y'all. Let's just give the competition to this guy right now.

Matt's red fife noodles with lobster dashi, bacon and salmon roe
In Poor Taste
Unfortunately, Alloy's win left Ross, Jesse, Elia and Mark on the chopping block, and Felix's shot at re-entering the competition was toast. He was sent knives packing before the judges had mercy on Jesse and Mark for serving up the best of the worst. That left Ross and Elia in the bottom two, with Ross's immunity becoming the elephant in the room. Eden asked him if he wanted to use it, and although you could see the wheels turning as to whether or not he should, Ross opted to go down with the ship if need be. Honourable, but a bit mental to me. He had a 50 per cent chance of going home and he opted not to use his get-out-of-jail-free card? You can't help but shake your head at that decision. Even Elia asked him why he didn't use it as they left the room to let the judges decide their fates.

Ross taking a moment on the line
In the end, what the judges decided was that it came down to taste versus leadership. While Ross really messed up as the captain and didn't procure a cohesive menu, Elia served not one but two inedible dishes. And that's why they had to send her home, eliminating the second female chef in a row. For those keeping track, that leaves Jinhee as the last female competitor in this thing.

Team Henry's face the judges' verdict
"I like to learn and put myself in situations that I have no control of. That's what life is about," Elia said upon her elimination. "I learned a lot and am grateful. The time I've been here was a beautiful opportunity to show people who I am, to share my roots and for people to know more about my culture. That's what I'm taking with me."
"She needs to come into her own a bit, to work on her craft," Chris Nuttall-Smith said of Elia's performance in the competition. "You don't step out of culinary school or step out after three years in a restaurant and [become] this fully formed person. You're always learning food. So I want to see her define her style a little more and to act with a little more confidence. She's doing well, but she has so much to offer. I'd like to see her even more confident in who she is and to get out there and show that."
Agreed. And in the meantime, if Elia ever wants to make me some of those poblanos, I definitely wouldn't say' no.' There aren't enough genuine Mexican chefs in Canada these days.
Back at you all next week, when this group of chefs faces a harsh, double elimination. Bring snacks guys, because I have a feeling we're going to need it.
Watch Elia Herrara's exit video where she shares where she thought she failed in Restaurant Wars: