Rainbow kimchi, matcha cones and frozen acai berries… So many food trends and not enough time to try them all. Or at least that's the way I imagine the remaining nine chefs felt heading into the third episode of Top Chef Canada, when Eden Grinshpan enlisted them with their trendiest task to-date: create a brand new food trend by mashing up two other food trends, with Cuisinart doling out a trendy $5,000 cash prize to the winner. Did I mention it was all very trendy?

Peter Meehan joins Eden Grinshpan for the Quickfire Challenge
The Next Big Thing?
Luckily the gang had a little inspiration from Peter Meehan, former restaurant critic for The New York Times and the co-founder of food journal Lucky Peach, and a fun plinko-inspired board to see which ingredient and method they'd be utilizing. Think ingredients like coffee, coconut, matcha, kimchi, coffee and acai berries mashed up into things like cones, bite-sized bits, frozen or made into rainbows. Basically, anything that people will stand in a long lineup for these days made it onto the list, which meant that the chefs had to toss some of their classic training aside—at least for the trend part of it all. I mean, obviously the dish still had to be of Top Chef Canada caliber, otherwise what are we even here for?
Assignments in hand, it didn't take long for the chefs to run into the Monogram kitchen and pantry, practically falling over one another to get their concoctions going. You'd think that by season six someone would have implemented traffic cones or florescent aprons to avoid such potential injuries.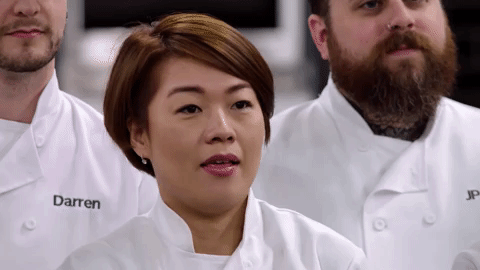 The look you get when you ask a chef to create a trendy, mash-up dish but make it Top Chef Canada
Potential head-on collisions aside, the chefs came up with their ideas pretty quickly, as one must when cooking in a Quickfire. Personally, I get nervous cooking for my family—people that know and love me—so I can only imagine how scary it would be to create food for someone like Meehan. Certainly, some of the chefs let those nerves show, including "coconutty" Jinhee, who totally got flustered when Meehan and Eden came by to taste. She shouldn't have been nervous because her traditional sorbet with tapioca pudding was deemed tasty, even if it wasn't exactly trendsetting. I imagine she didn't have expectations of winning the challenge anyhow, given her comments about wanting to be lasting, not trendy.
Meanwhile Ross, who also pulled coconut but had to create his in a cone, certainly tried to give it his all with a cream cone in a wonton wrapper (he even plated early), but unlike Jinhee he just wasn't "sweet enough" with his plate and Meehan docked him points as a result. And was it just me or did Eden look utterly disappointed when taking her first bite? That woman has a sweet tooth, mark my words.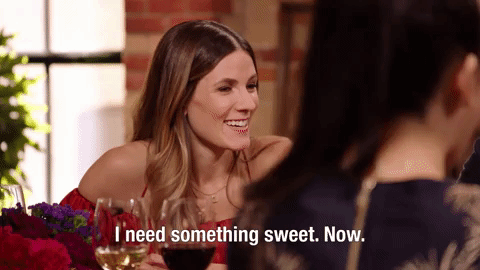 And here's the proof. Eden definitely has a sweet tooth
Other dishes, like Darren's "stupid berry," a.k.a. acai berry dish fell flat when all of that mad science liquid nitrogen stuff he was going for didn't work out, despite fogging up Jesse's station, and he served up something that looked like an oil painting on a plate. Yeah, thanks… but no thanks.
On Trend: Chefs Mark and Matt
In terms of innovation, I give full points to Mark, who ran through the kitchen like it was nobody's business in order to create a rainbow of kimchi flavours. The chef used zero actual kimchi on his plate, yet he achieved the full kimchi experience, which is kind of the epitome of trendy these days, no? I did find it a little weird that his dish looked like a flat painting of a rainbow instead of something you'd actually order and eat, but again, it was a really cool concept.

Mark's seared strip loin steak, cabbage and red bean purée, onion purée, spiced purée and scallion purée
But not even a cool rainbow of kimchi could beat Matt's love affair with the ingredient. When you claim to put kimchi in your breakfast cereal, wear it as hair gel and use it as cologne, you've automatically got a leg up. Also, you probably don't smell the greatest, but luckily for Mark, personal hygiene didn't factor into the challenge.  The fact that Matt pulled bite-sized in terms of a vessel meant that he could create Kimchi Foie Gras Dumpling in Kimchi Broth With Grated Shitake Mushroom that even Meehan said he'd line up for.

Matt's winning dish: kimchi foie gras dumpling in kimchi broth with grated shiitake mushroom
Once again I'd like it reiterate how unfair it is that we don't get to taste these dishes at home. Obviously, the dumplings landed Matt the five thousand dollar cash prize from Cuisinart, along with an advantage in the Elimination Challenge. Considering he's got a pregnant wife at home it was hard not to be happy for the guy. That money will indeed go a long way, as he predicted. Cribs and diapers and clothes add up, y'all.
Hola, Chefs!
With fads out of the way, it was time to turn to a classic, favourite cuisine for the Elimination Challenge: create a three-course Mexican feast to be served at Toronto's Baro restaurant. You could see Elia's eyes light up at the prospect of using her background to fully showcase what she can do, but at the same time, that's got to be a lot of pressure. After all, if you mess up your own cuisine, the judges definitely won't be as forgiving. Assuming the judges are ever actually forgiving…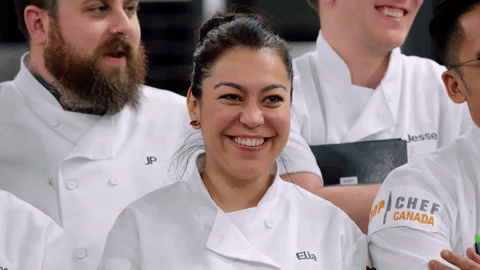 The exact moment Elia heard she'll be cooking Mexican for the elimination challenge
We're not talking burritos and tacos and other cliché Mexican dishes here either—save that kind of food for after the bars. To get inspiration for what kind of food they would be cooking, the chefs were asked to pull little succulents to see which region of the country they'd draw inspiration from. Meanwhile, guest-judge (and the very first Michelin starred Mexican chef) Carlos Gaytan advised them on various flavour profiles and doled out tips. Hey, if you've got the source at your fingertips, why not take advantage?

Carlos Gaytan at the tasting table
Speaking of, Matt's advantage was that he could pick any of the regions, so he strategically picked Baja California to directly compete with Ross, whom he feels is his biggest competition. Interesting choice, if you ask me. Just because the chef won the immunity challenge the week before doesn't necessarily make him the top competitor—in fact, he's spent some time in the bottom and right now my money is on other competitors like Jinhee and Mark making it far.
Related: Go behind the scenes and find out how challenges are created by the show's producers.
Regardless, the nacho-less chefs got busy planning their menus straightaway, with the classic, "who will get stuck with dessert" discussion taking centre stage. Ivana, whose meal-ender landed her in the bottom last week, wanted to redeem herself by tackling something sweet again, while Darren took one for the team and volunteered to cobble together a dessert in hopes of not having to do so again in the future. Seriously, I always love watching these amazing chefs, who can emulsify and press and plate like it's nobody's business, squirm whenever sugar is involved, don't you?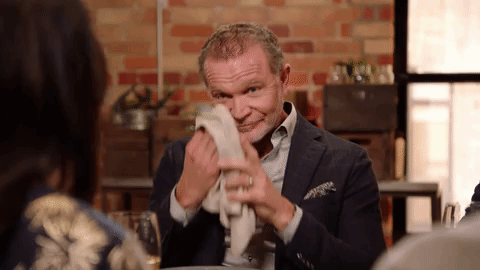 Funniest moment of the night: Mark literally can't handle the heat 
With the menus sorted out, it was off to Toronto's Kensington Market with a hundred bucks to spend on ingredients. Poor Jinhee, who has never been there, was completely lost. Half the time I want to give that girl a hug, the rest of the time I want to split a bottle of wine with her and pick her brain. It may be biased, but I'd love to see her make it far in this thing.

Elia was the one to beat in this challenge
JP and Ivana Get Their Just Desserts
For Elia, the challenge quickly became personal when she decided to cook her grandmother's dish, Chiles en Nogada—Stuffed Poblano Pepper with Walnut Sauce, Pomegranate & Goat Cheese Tuile. I was seriously worried the judges might dock her points because she had served a version of a stuffed pepper back in the premiere (it was her take on tourtière), but they positively ate this dish up. Literally. Everyone said the flavours were spot-on, and the poblanos landed Elia in the top three of the night. It was like everything was right in the world.

Elia's Chiles en Nogada: stuffed poblano pepper with walnut sauce, pomegranate and goat cheese tuille
Matt and JP, who was determined to fight back from the bottom, rounded out the best dishes of the night. Eden described the seasoning on Matt's lamb tartare as "ridiculous," while JP's Mango Custard proved that desserts can actually be done well on this show. In fact, even though Carlos said he'd putt Matt's dish on his menu, it was JP who took home the night's trophy. Fancy that—it seems like a well-done dessert goes a long way with the judges, too.
Matt's lamb tartare with fig and black olive jam, corn chipotle crema and jicama chips

JP's reaction to not only beating a celebrated Mexican chef in the Elimination Challenge but winning the night with a dessert
Of course, that also means that a poorly executed dessert will be very harshly judged. Ivana knew this from last week, but she experienced it all over again when her chocolate mash-up of ingredients (including a random fried cricket) left all of the judges uber confused. (Is saying uber still trendy? Wait, wrong challenge.) Personally, I wanted to gag. Bugs are my limit, thank you very much.
It was Mark McEwan who seemed to be the most disappointed of all (Ivana did work under him, once upon a time), but he was equally disappointed in Darren's riff on Capirotada, a bread pudding of sorts that he himself said was a dish "a home ec high school student could do." Ross, with an immunity in his back pocket, rounded out the bottom three with his seared scallops. His dish was tasty and all, but it really wasn't in line with the Mexican part of the challenge itself to be deemed a winner.
Surprisingly, Ross's confidence in his flavours was enough for the chef not to use his immunity just yet, something that sparked a huge debate among the others who weren't up for elimination. While I certainly would have used the immunity just in case (who wants to go home with an immunity in their pocket?!), Ross proved he's a gambling man and opted to save it for any of the next three challenges just in case. Hey—pride can go a long way, and I suppose if he can hypothetically win this thing without ever having to use an immunity, then that just makes the win that much sweeter.

The bottom three chefs have their reckoning at judges' table
Luckily for him the gamble paid off, and it was Ivana who was sent home for her cricket-chocolate concoction. After she proved twice that desserts are not her forte, the judges seemed to have no other choice. It was a real shame given her credentials; we didn't really get to see much actual cooking from the contestant. Had she had the opportunity to set the sweets aside, maybe her own ending would have been sweeter.
"She's a trench fighter… [but Ivana] didn't have any positive moments, unfortunately," McEwan said later. "She underestimated what it is to be on Top Chef Canada a little bit and I think she kind of psyched herself out. We didn't see her best cooking; her nerves got the best of her. She's got a very, very good base knowledge and very good sense of flavour, but we unfortunately didn't see it."
Sadly, those are the breaks on Top Chef Canada. Until next week, when Restaurant Wars make a grand return. Who's hungry?
Watch Ivana Raca's exit video where she shares the toughest feedback she received from the judges', including her mentor Mark McEwan: