The saying may be "waste not, want not" but it was clear from the opening moments of Top Chef Canada's second episode that despite a no-waste challenge, these chefs want it, and they want bad. The episode opened with the surviving crew lamenting about their mistakes (or smiling to themselves over their victories) from the Elimination Challenge the night before. Darren likened his experiences with the judges to a mind game, saying that it was like they were looking into his soul and saying, "We know what you did and we hated it."
Well yeah, pretty much. This is Top Chef Canada, after all.

That look Darren describes also awaits the bottom three chefs of this episode.
Don't Waste This Quickfire Challenge
At least the coffee was hot as the blurry eyed Top 10 geared up for one of the coolest Quickfire Challenges in the series' history—a high-stakes food waste challenge in which every chef got the same arsenal of ingredients, and were tasked with making something delicious with as little waste as possible. To inspire them was guest-judge Danny Bowien, James Beard Award-winning chef, champion of minimal food waste in the restaurant industry, and starring in the film, Wasted! The Story of Food Waste. This wasn't just any old Quickfire though, this was a challenge as high-stakes as they come since the winner would get this season's sole immunity—one that he or she could use in any of the next four episodes. Winning the challenge would be the second-best thing to winning the entire season at this point, and the chefs knew it.

Danny Bowien judges the food waste Quickfire Challenge
So they acted appropriately by running into each other and sliding all over the floor trying to get to their stations to maximize that 40 minutes on the clock. So you know, just another typical day in the Monogram Kitchen. Seriously though, you could see the beads of sweat already starting to form on their brows, they all wanted that immunity so badly.

Mark plates his dish in the Quickfire Challenge
Of all the chefs, it looked like Nathan felt the pressure the most. He changed his dish not once, not twice, but three times within the already measly time frame, and wound up serving… well, I'm not sure what he served. There appeared to be a carrot on one plate and that was about all I could make out. In fact, there wasn't anything to sample for the judges, he just mustered up some apologies and promises that he'd get it together ASAP.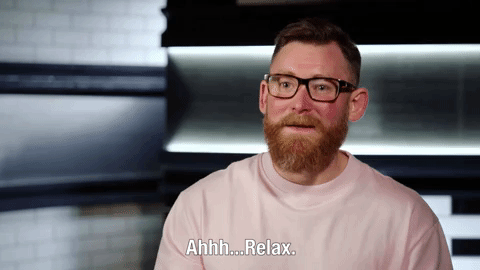 Nathan should've taken his own advice from the first episode.
He wasn't the only one feeling the heat though; Jinhee mucked up her plan, too. Although her Fish Ragoût with Tomato & Red Pepper Emulsion was killer in the taste and looks department, her waste bin was heads and fishtails higher than all of the other competitors. She knew it too and was kicking herself because she meant to do something with those scraps and then completely forgot.
And the Immunity Goes To…

Ross is an island of focused calm in the midst of the Quickfire Challenge
Things were looking up for Mark, Ross and JP, though. The latter's bin consisted of basically an artichoke that fell on the floor, while Mark only tossed an orange rind (which he was still criticized for not zesting). But it was Ross's Pan-Seared Branzino in a Pesto Puree with Compressed Radish & Artichoke Vinegar and his very minimal bin that landed him the night's big win, or a "Get Out Of Jail Free Card," as he happily dubbed it.
"That's pow-ah," Eden joked in her adork-able foodie way, reminding us all why she's the perfect person to host this thing.

Guest judge Danny Bowien said Ross's winning dish was clean yet complex and showcased his skills as a chef.
Down on the Farm: The Elimination Challenge
With immunity and food scraps out of the way, it was time for the chefs to turn to the Elimination Challenge, the next hurdle between them and the title of Canada's Top Chef.  Eden welcomed celebrity chef Lynn Crawford, the ultimate farm-to-table chef in my books, to be the challenge's guest judge and help decide just how well the chefs could whip up a dish inspired by one of five types of Canadian farms: dairy, egg, vegetable, fruit or grain.  Lynn Crawford wasn't the only guest at the table; five farmers, each one representing the farmed ingredients the chefs were cooking with, were also invited to taste the chefs' plates.
With the task set and the challenge knives drawn from nifty little wheelbarrows, the chefs visited the Royal Agricultural Winter Fair for inspiration and ingredients. There, the gang checked out massive gourds that would probably squash them in a Quickfire (see what I did there?) and Jesse and Darren, who both picked dairy, attempted to milk a poor cow who seemed "udder"ly unimpressed with Jesse.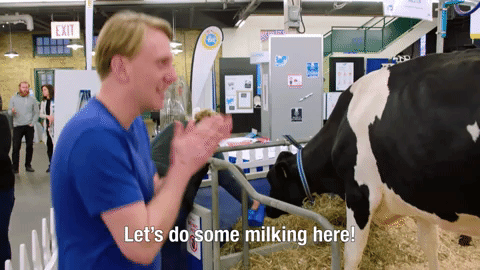 With their ingredients in hand, the chefs headed back to the kitchen for a little prep, and then onto the restaurant for the main service, where Eden, the judges and Lynn Crawford were eager and ready to taste and rate the fare.
Related: Go behind the scenes of the Top Chef Canada kitchen with the series' Culinary Producer.
Winning the Farm
Darren was intent on bringing his A-game after falling in the bottom last week, so he switched tactics and cooked something for himself rather than serving up a dish he thought the judges might like. That meant going old school with a Poached Sablefish with Potato Pavé, Milk Crackers & Lemon Cream Sauce. The madness certainly worked—not only did Darren wind up in the night's Top 3, but everyone agreed the dish showcased a high degree of skill.

Mark's Stages of Tomatoes with Strawberries, Soft Tofu and Chilled Tomato Consommé
The judges also loved Mark's vegan take on his fruit dish. In fact, McEwan admitted it's hard to "get that excited about a bowl of tomato water," but Mark's Stages of Tomatoes with Strawberries, Tofu & Chilled Tomato Consommé was an immediate hit. And yes, tomatoes are still a fruit in case you were wondering.

Matt's Beer-Braised Savoury Grain Stew with Rye-Marinated Duck
But the night's overall success story was Matt, with his suds-soaked riff on grains that had Janet admitting she wanted to lick her plate clean. The chef was awarded the night's big win for his Beer-Braised Savoury Grain Stew with Rye-Marinated Duck, proving that beer and grains really do make for a winning combo. Who knew frat boys everywhere were on to something?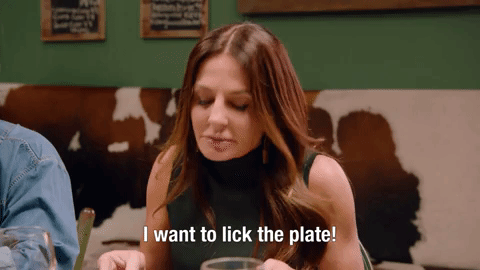 There's no higher praise for a chef.
And Losing the Farm
McEwan's protégé, Ivana, was definitely not pumped about picking fruit because she felt that meant she had to go the dessert route, and few non-pastry chefs in the history of cooking have ever loved making desserts. So it wasn't really a surprise when her Apple Clafoutis with Maple Apple Sabayon & Almond Apple Jam fell flat and landed her in the bottom three, with disappointed tears quickly following. The judges picked her apart not just for the type of dessert she made but how she presented, too. Mijune was being really nice when she described the dusting of icing sugar as 'old-fashioned.'

JP, Ivana and Nathan await the judges' reckoning.
And while it looked as though Ross—who has some liberty to play around thanks to the immunity in his pocket—might also land in the bottom three after his dessert riff on grains went to mush, it was JP and Nathan who rounded out the worst of the night's worst.
JP took me by surprise because if I were to judge purely from what I saw on TV, his "what came first, the chicken or the egg" approach to picking eggs was genius. How do you go wrong with crispy chicken skin and egg pasta? Well, by delivering thick pasta and a thin broth, apparently. The judges were not fans, and they were not afraid to say so.
And the Elimination Goes to…
But no one did worse than poor Nathan, who clearly couldn't shake his competition nerves. We had such high hopes for season one winner Dale Mackay's partner—he was an easy frontrunner to win the title. But when he served up Poached Egg with Hollandaise, Trout Eggs & Cured Salmon on Roasted Cabbage, that was the final straw for the judges. While the eggs themselves were dandy, they were a little too simple for this crew. Then there was the matter of the thick slab of cabbage (and cabbage core) at the bottom that turned everyone off, making the dish completely inedible. In the end, it was as though the judges were forced to send Nathan home since he never really wrapped his head around this thing in the first place.
"I didn't do what I came here to do," Nathan told the cameras afterwards. "I wish I could be different and not so anxious and nervous."
Me too, Nathan. Me, too. Somehow I feel like we didn't even see a fraction of what this guy is capable of. But, those are the breaks when you do a show like this.
"I'd want to see what his actual cooking is because on the show he really did struggle by second-guessing [himself]. The challenges really threw him off," Mijune Pak said afterwards.
Her advice for Nathan would be to work on 'less, is more.' Mijune adds, "On the show, he had this habit of putting a lot of elements on the dish. You end up just getting something that's confusing…and not what you wanted to present."
"I'm sure what he cooks at his restaurant is probably very different," Mijune continues. And she's right, Nathan's Saskatoon restaurant Sticks and Stones was named to Canada's Best 100 Restaurant List for 2018. So, we know he's more than capable as a chef. Maybe Mijune sums it up best with this thought about Nathan: "I'm not sure if he is a competition chef."
Another chef fails tonight because of a lack of confidence. There's a reason the judges love certain plates; it's because they 'taste like confidence'. (Thanks to Chris Nuttall-Smith for the perfect quote from the premiere episode.)

Case in point: Matt Sullivan, the evening's winner, confidently stands next to a massive flame with a bottle of open whiskey.
Nine remaining chefs continue on next week, as the kitchen becomes infused with Mexican flavours and hopefully, more confidence. Personally, I can't wait for that fiesta.
Watch Nathan Guggenheimer come to terms about what got him sent home in his post-elimination exit interview: