Welcome to 2018, the year of plant-based diets, Instant Pot recipes and another delicious season of Top Chef Canada! Everyone knows it's hard to follow-up an All-Stars edition, but judging from the way the first episode of season six went down there's going to be some stiff competition in store from this next generation of culinary superstars.

This season's 11 hopefuls await instructions for their first challenge from Host Eden Grinshpan.
It all kicked-off with the 11 hopefuls sauntering all slow-motion-like into the Monogram Kitchen (framed by some cool backlighting and with their knives in tow, of course), where they met returning host Eden Grinshpan and had a chance to size one another up. Some, like Saskatoon chefs Nathan Guggenheimer and Jesse Zuber, were already familiar with each other thanks to their partnerships alongside season one winner Dale Mackay (pressure, much?) while others, like Calgary chef Jinhee Lee seemed slightly intimidated—but not deterred—by the competition.
Related: Watch a behind-the-scenes glimpse of Eden Grinshpan's day in the life of being Top Chef Canada's host.
There was no time for actual formalities and introductions though; this is a competition, people. So Eden dove right into the night's initial Quickfire Challenge: a four-part culinary skills race led by head judge Mark McEwan himself. The legendary chef and restaurateur reminded the chefs that no matter how high you've climbed the culinary ladder, your skills need to remain as sharp as your knives; Mark blanched and peeled 31 pearl onions in a mere three minutes, setting the bar for the first round of the challenge. Then in round two, he showcased his standards for a perfectly peeled and diced butternut squash, before diving back in during round three to prepare a duck like it's nobody's business. (And here I am, still trying to figure out how to quarter a chicken.)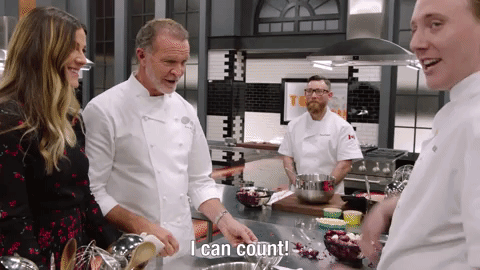 In this mad dash Quickfire Challenge, counting the pearl onions was almost as tough as peeling them.
So what was the point of prepping all those ingredients? Other than to remind everyone why McEwan is the head judge, I mean? It certainly wasn't to feed the production crew. Nope, by the time Jesse and Vancouver's Mark Singson beat out the others to compete in the final round, they were given 25 mere minutes to prepare a dish with the food they'd just prepped. While it would probably take me 25 minutes just to cook up some rice and throw a chicken breast in the oven, these guys set the bar incredibly high with what McEwen admitted were easily two Top Chef quality dishes. That's always a good start to the season, no?

Jesse's Pan-Roasted Duck With Poached Pearl Onions and Squash Three Ways
Jesse's Pan-Roasted Duck with Poached Pearl Onions & Squash Three-Ways was pure confidence, for one. The guy even cook-splained how important it was to properly render the duck fat to McEwan before he tasted it, proving to everyone that he knows his fowl. But it was the smoked canola oil in Mark's Pan-Roasted Duck with Charred Onions and Squash Purée that put his dish over the top and landed Mark a cool $3,000 from Monogram, setting the bar for the season, if you ask me. And judging by Mark's self-professed current financial status with his catering business, it was three grand he's certainly pumped to have.

Mark's Pan-Roasted Ducks with Charred Onions, Squash Purée and Smoked Canola Oil
Not that there was any time to really celebrate, mind you. Sure, it was obvious everyone's nerves were tingling from the pressure of actually competing in this thing, and that they could all use a good night's rest and a cocktail or two. Heck, I could use a stiff one after seeing how much work went into a 'mere' Quickfire Challenge. But that kind of repose is for other culinary competitions; in Top Chef Canada we head right into the Elimination Challenge, where what you put on the plate is always a do-or-die situation.

From L-R: Chefs Ivana Raca, Matt Sullivan, Jinhee Lee, JP Miron
Given the high expectations from this year's crew and their next-gen style of cooking, it was only fitting that Eden bring out four chefs whose own culinary creations have helped shape the Canadian food landscape over the past few years. Obviously, that included McEwan, but in a star-studded move fit for a foodie premiere, Eden also introduced Susur Lee, Rob Feenie and Anne Yarymowich—three culinary masterminds whose dishes have inspired hoards of hopeful chefs. So basically, all of my own culinary heroes straight-up in one kitchen.
The task at hand? Each chef was supposed to put their own stamp on one of the four chefs' signature creations that put them on the culinary map. Mark, who had the advantage of picking which chef he'd use for inspiration thanks to his Quickfire Challenge win, immediately selected Rob Feenie and his mouthwatering Sake & Maple-Cured Sablefish, Braised Oxtail, Ginger and Soy Cream. You know, just your basic fish and chips.

Ross Larkin prepares his take on the Bymark burger: manchego truffle powder dusted on top of his PEI Grass-fed beef tartare on squid ink crostini.
Meanwhile, the rest of the chefs drew knives to see which dish they'd be recreating: McEwan's Bymark Burger with "high performance cheese" (I'm still not sure what that is but I want some); Susur's Curry Roasted Chicken with Italian influences like polenta croutons; or Anne's Montreal classic Tourtière, a golden-crusted meat pie filled with bison, venison, pork and duck confit. (A comfort food that could comfort even the most comfortable.)
No one ever wants to be the first chef to go home in a competition like this, so with $100 on their Interac cards and 25 minutes to shop at McEwan Foods, the competitors set about creating deconstructed, re-imagined and gussied-up versions of the four dishes, which they were to then piece together at McEwan's Bymark restaurant.

Jesse prepares his take on the Bymark burger: trio of tartare "sliders" on three-cheese gougères.
As Jesse pointed out, it was basically "Top Chef Suicide" for those who drew McEwan's name. I can't even imagine the coronary-inducing levels of stress caused by whipping up a Bymark burger, at Bymark, for Mark. But that didn't mean we should count Jesse, Montreal's Darren Rogers, or St. John's Ross Larkin, who all drew the Bymark burger, down and out just yet. Felix Zhou admitted he couldn't even pronounce "tourtière," for one. And the other chefs were also sweating up a storm back in that cramped kitchen. Not that I blame them; it wasn't just the four powerhouse chefs who were going to be judging their plates; resident judges Mijune Pak, Chris Nuttall-Smith and Janet Zuccarini were also back to lend their tasting expertise. That's a dinner party you want to break bread with, not cook for.

Jinhee's Maple Lime-Glazed Chicken Thigh With Lemongrass Curry
In the end it was female power that led the way this week, as Jinhee's Maple Lime-Glazed Chicken Thigh with Lemongrass Curry completely captured all of the judges' imaginations (especially Susur Lee's), and Elia Herrera's Mexican take on a tourtière (a Stuffed Chipotle Pepper in a Pastry with Date & Tamarind Purée), blew everyone away. I would have jumped through the TV screen just to take one little bite of either of those dishes.

Elia's Mexican Tourtière, a Stuffed Chipotle Pepper in a Pastry with Date and Tamarind Purée
Meanwhile, it was Montreal's JP Miron, a guy obviously in this thing to represent his hometown, who rounded out the top three with his Maple Soy-Glazed Sablefish with Potato Pavé and Sake Soy Jus. Fish and chips indeed — this guy basically created "fish skin" out of shaved potatoes, making the 80's cool again.

JP's Maple Soy-Blazed Sablefish with Potato Pavé and Sake Soy Jus
While all three dishes were impressive, there was no beating Jinhee's chicken, which Chris said "blew" his mind and Janet called "flawless." That's pretty high praise for the first winning Elimination Dish of the season, which means the pressure is on for Jinhee to keep bringing it week after week now. Good luck, I say.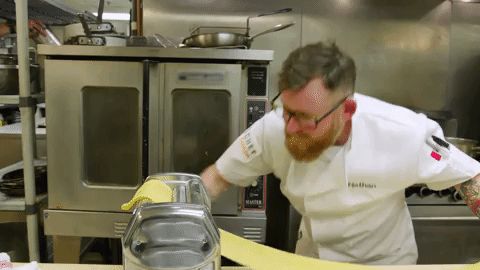 Nathan should have kept rolling that pasta! Janet Zuccarini thought Nathan's too thick pasta was "the beginning of the end" for her.
So with the winner determined, that left the unfortunate task of naming the night's loser. And while Nathan's bland curry and too thick pasta and Darren's "elevator music" riff of strip loin were certainly bad enough to land them in the bottom three, it was poor Felix who became the first chef eliminated after he forgot his puff pastry and tried to solve the problem by making crispy sheet potatoes instead.
To be fair, I'm not sure it was completely the dish that made the judges decide to send him home; when McEwan asked Felix if he could make a standard pie dough that could have been used instead of the purchased puff pastry, he simply said, "no." Apparently he didn't get the memo that a judge does not want to hear something like that in a competition like this. Confidence goes a long way in this kitchen, and sadly Felix didn't seem to have it this time around.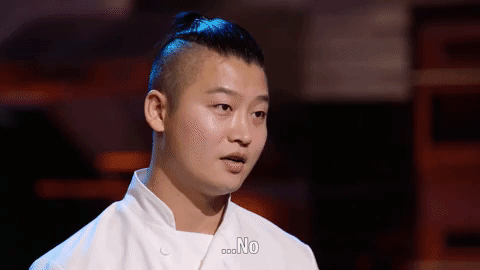 "No" is definitely not something the judges want to hear from a competitor.
With one chef down that leaves 10 to go, as next week the competition heats up again. After seeing the creations coming off the hot plate this week, I'll definitely be bringing my appetite.
Related: Watch Felix Zhou reveal what he thought were his mistakes that led to his elimination in this exit interview.