It's been a delicious ride, but all epic battles must come to an end—no matter how savoury they are. And so Dustin, Trevor and Nicole entered the Monogram Kitchen one last time on Sunday night as the first ever trio of Top Chef Canada: All-Stars finalists, where they faced off against each other in a crazy culinary showdown.

Nicole, Dusty and Trevor arrive in the Monogram Kitchen for the very high stakes Quickfire Challenge.
Of course this wouldn't be a finale without a bit of a look down memory lane. Before we got down to business each chef opened up about what being in the finals meant to them and why they started cooking in the first place. It was a sweet and touching moment before the gas grills turned to high, and these guys (and gal) knew it. We didn't buy their grins walking into the Quickfire Challenge as anything other than nerves, especially because they had to have known what was coming next: One. Last. Elimination.
Can you imagine being the chef to be booted from the competition right before the final stretch? To say it would suck would be a complete understatement. That's like being told you're going to the World Series only to find out you've been booted because they invited too many teams. So yeah, this was pressure at its absolute finest.
Fittingly, the dish the chefs had to create was the dish they'd want to eat before the day of battle, so it wasn't just fancy schmanzy comfort food here: it was actually a bit of these chefs on a plate. And each chef had a fairly different strategy to deal.
Dustin proved he's the most adorable family man ever when he created a Fennel-Poached Salmon with Fingerling Potatoes, because that's a meal he and his wife enjoy eating together. Okay so perhaps it wasn't comfort food in the traditional sense of the term, but it certainly had an elevated, spa-like quality that definitely impressed. Meanwhile, Trevor threw his efforts into a Handmade Tagliatelle (such a risky move given the time crunch everyone was under), and Nicole doubled down with a Spaghetti Puttanesca and a Grilled NY Striploin. Because if it's your last meal, why shouldn't you have two? Now that's a girl after our own heart.
So whose dish did Mark McEwan, Mijune Pak and Eden Grinsphan positively devour? Dustin's, naturally, and that win earned him the honour of becoming the first of the two official official finalists of the night. The guy knows how to cook fish, what can we say.

Dusty's Fennel-Poached Salmon with Fingerling Potatoes, Braised Carrot and Fennel.
That meant it was down to Nicole and hot-streak Trevor. But while the judges were impressed with Trevor's overall ability to make pasta in such a short time span, it was one crucial thing that did him in, in the end: salt. That's right, the one ingredient that every chef can never seem to get enough of was what ruined Trevor in the end, and he was instantly eliminated in a heartbreaking twist.

Part I of Nicole's Meal: Grilled NY Strip Steak with Salsa Verde
Mark told us later on: "With Trevor, it was all or nothing. He would come out and he would wow you and he would take the day or he would falter. As it went on and the competition wore on him, his bag of tricks was just not there."
"It's a shame that I got eliminated… I would have liked to have cooked a final meal, for sure because I spent all of last night planning it and that just got cut short," Trevor said post-elimination. "So I could have been sleeping for four hours instead of planning menus but no regrets. That's what you're here for. It was fun while it lasted."
And then there were two.
If we're being honest, we always knew it would come down to Dusty and Nicole. Every week if felt like one or both of them were in the top, and while they had their stumbles along the way they were few and far between. So we would have given anything to have had a place at the judge's table for the All-Stars feast they were tasked with creating. That must have been the best meal of these judges' lives.
Of course you can't create a gigantic five-course feast for a group of judges (Chris Nuttall-Smith and Janet Zuccarini joined Eden, Mark and Mijune) without a little help from your friends. So back to join in on the party were Dennis and Andrea, two of our favourite local Toronto chefs. Dustin immediately picked his boy Dennis to serve as his sous-chef for the evening, while Andrea and Nicole rose above their past annoyances to create a female powerhouse on the flip side of the competition. And that's when the real battle began.

Dennis helps Dusty in plating his Japanese Rib Eye Steak entree course.

Andrea helping Nicole make the pasta for the Goat Cheese Tortellini.
From the first bite, which was literally one single bite as it was the Amuse Bouche, you could tell this was going to be one stiff competition. Nicole finally decided to bust out her signature Italian flavours, while Dusty opted to showcase his worldly Asian experience with different cuisines. Both had their merits. Dusty's Braised Winter Melon was a mini flavour bomb, but so was Nicole's Lemon Arancini with Truffle Fonduta. The pair also pulled in neck-and-neck with their apps (Dustin earned tons of praise for the Iced Ginger Dressing in his Thai Mango Salad, while Nicole's Beef Carpaccio melted in the judges' mouths), and seemed pretty tied up in the rankings following their first main, too. We mean, really: how do you judge between a perfect Olive Oil-Poached Cod and a perfect Goat Cheese Tortellini anyhow?

Chris on Dusty's Thai Mango Salad: "This is a masterpiece of seasoning."
Janet on Nicole's Carpaccio: "This is a brilliant dish."

Mijune on Dusty's Olive Oil-Poached Cod: "The cod is so buttery, so silky smooth."

Mark on Nicole's Tortellini: "That dish is magic. This is the best tortellini I've ever eaten."
But by the time we got to the second entrees things definitely began to fall apart. Dustin totally overshot his mark by trying to recreate a Japanese style platter that included soggy tempura, while Nicole forgot to think about the overall flow of her plates by serving a sea bream with a second butter sauce. With such a disastrous showing, we knew it could only come down to every chef's most loathed dish of all: dessert. Because doesn't it always come down to dessert?

Nicole's Sea Bream with Fingerling Potatoes, Crispy Capers, and Beurre Blanc Sauce

Dusty's Japanese Rib Eye Steak with Miso Eggplant, Vegetable Tempura and Nori Squid Ink Butter
From where we were watching, it could have been either Dustin's vanilla ice cream or Nicole's panna cotta that were the winning elements on their plates. It was impossible to tell, and the conflicting judges' opinions weren't super helpful either: one minute they seemed to be in favour of Dusty's overall dishes and the next they were Team Nicole.

Janet on Nicole's Vanilla Bean Panna Cotta: "One of my favourite panna cottas that I've ever had."

Eden on Dusty's Apple Tarte Tatin with Vanilla Ice Cream: "The star of this plate is the ice cream. The texture's gorgeous."
So whose name was it that was called out in the end? Let's just say that she not only became the very first All-Stars winner, but she also became the first female chef to ever win a season of this show. That's right, in the end it was Nicole who stole the competition and our hearts with her hilarious one-liners. The second she heard her name announced you could see just how much this competition truly meant to her, and that made her win oh-so-much sweeter.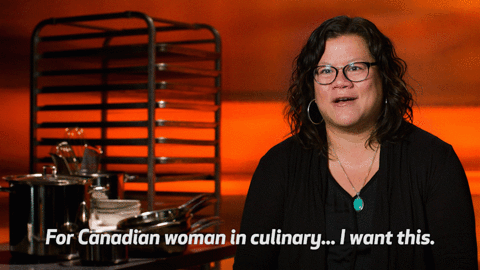 From Episode 9: Nicole declares her intentions.
Chris told us afterwards: "Nicole's specialty is Italian food, it's what she loves, it's what she's great at. She didn't even go into her comfort zone until she'd made it to the very end. You get to the finale and she pulls out this skill, this expertise that we didn't even know she had and it was mind-blowing. I cannot say enough about what a great chef she is and what a smart human being she is."
"Being Italian, you can really know if just one nuance is off because Italian food has very, very strict rules. She really stuck to the nuances," Janet agreed. "One thing I really remember about her food is being incredibly fresh tasting and she really cooked with a light hand and that's what Italian food is. You're just bringing out the inherent goodness of really good product."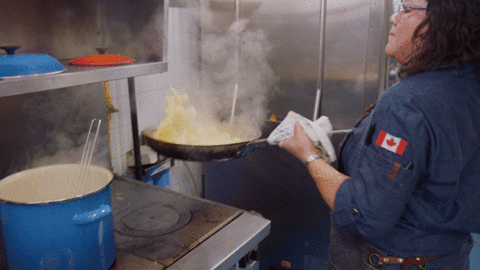 No nerves here while preparing her finale dinner – just some smooth dance moves.
"Nicole just kept getting better and better and better. She kind of rose to the occasion," Mark chimed in. "I remember her from the first time I met her and she'd have flour all over herself, her station would be a mess. Completely lovable. But at the base of it, a good cook: knows how to season, knows how to combine things. This is her catering background. So, she excelled because her food tasted good. And only got better. That's what it takes to win. You've got to have that consistency and you've got to generate momentum and she did that all the way through. And how adorable was that that she won? That was incredible."

So well deserved. Nicole raising a glass with her mom and sister to her right and boyfriend to her left.
"I'm still on cloud nine, I can't believe this. This is incredible. Winning this is crazy—winning this against Dustin is crazy. I'm still in shock," she said afterwards. "There were some great competitors. I know I'm good at what I do but winning this is over the top. First woman, Top Chef Canada and then All-Stars? It's unbelievable."
Of course it was also bittersweet because we loved Dustin equally, and he wanted to win so much for his family. He should at least rest assured that he more than proved his salt in the kitchen, and showed everyone just how grown up and capable he is as a chef. Obviously great things are in store for him, and we're not the only ones who know it.
"Dustin's amuse bouche was just astonishing. It was so delicious, so impressive. It was so simple, but not simple. It was one of these things that just it looked so innocent in that glass bowl and you taste it and your mind just goes to a thousand beautiful places," Chris reflected. "It had everything. It was such a masterpiece of judgment, of seasoning. It was fresh, it was savoury. Every bit of that amuse bouche suggested we were about to have the meal of a lifetime. And then he comes out with this Japanese course that was just an unmitigated disaster. Nothing about it was good. It was so disappointing because he worked so hard and I think this was one of those instances where he thought what he served was good and it just wasn't. God, it's heartbreaking. I'll never forget the look on his face when he didn't win. Your heart just went out for him."
"It was for Dustin to lose and, unfortunately, he did lose it. I know he thought he won and I felt terrible about it, but he had an amazing showing," Mark said. "The whole Japanese thing, I didn't get it. To me, that's where he gave it away. You have to be very careful with Japanese food. It's all about extreme precision and when it doesn't land, it doesn't land. He put a lot of gas in that category and he spent a lot of energy there and it just didn't resonate, whereas Nicole did simpler dishes, but you wanted more."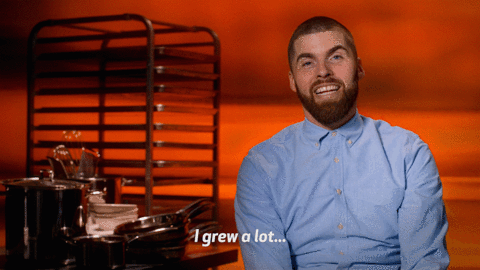 "I'm bummed out. I know where I fell short today but I wouldn't change anything, I'd just make it better," Dustin said. "I was really hoping to win this so even though I made it far and it was a good run, it's going to take some time to decompress… It's one thing in the first season to get kicked off on a random episode but to be so close and to almost have it is a little trying."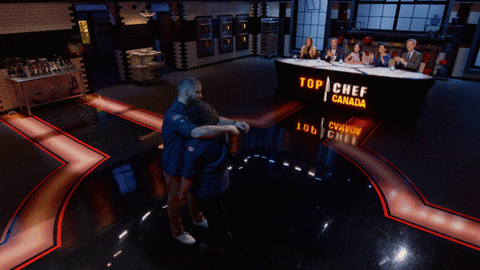 Even as she wins the title, Nicole acknowledges Dusty's amazing work. 
And that brings us to the end of another season of Top Chef Canada. It's been a slice, but now we've got to get back to our regularly scheduled weeknight meal planning. At least now we'll have a little inspiration from some of the best in the business… and now we'll probably always remember to hold back on the extra salt.
But wait…there's more!
Read our exclusive interview with Canada's Top Chef Nicole Gomes
Watch these bonus scenes and bloopers:
The Final Two's Hotel Bar Chat