If you've been tuning into Top Chef Canada: All-Stars then you're well aware that these chefs are like culinary super heroes. There's no onion they can't slay without shedding a single tear. No hunk of meat they can't butcher to the most precise cut. No flavour profile they can't deconstruct and build back up quicker than The Flash.
That's why when we look back over the course of the season we're reminded that, while these guys and gals killed it in the kitchen, they're prone to all those real life foibles and emotions regular folks deal with all the time. Whether it was a hair-pulling mishap, an eye-rolling rivalry or over-the-top excitement, here are 12 times the All-Stars showed us they're just like us.
1. How Does This Thing Work?!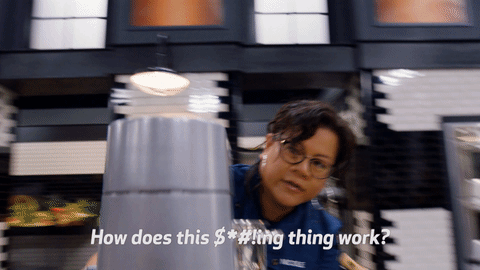 Having access to all of the latest and greatest kitchen tools and appliances is pretty gravy… if only one can figure out how to use them. Heads up Nicole, that mixer only works if you actually plug it in.

2. Slaying the Budget in the Grocery Check Out Line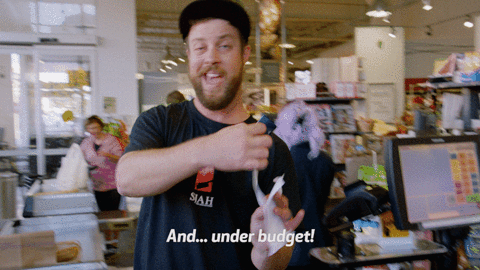 Sure, sure… any of these guys could create a wonderful meal in the kitchen if they had unlimited access to amazing ingredients. But doing that while coming in under budget? Well that's priceless.
3. Actually Admitting You're Scared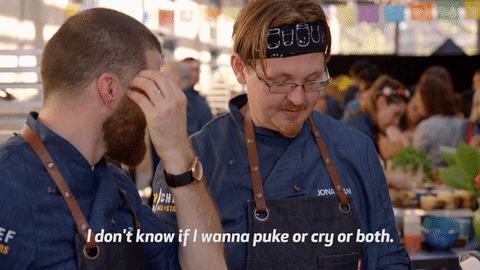 But really, how do you react when a panel of culinary experts that scares the crap out of you tastes your food at a world market? Do you cry? Puke? Huddle down under the table and bawl your eyes out?
4. High-Five Freeze Out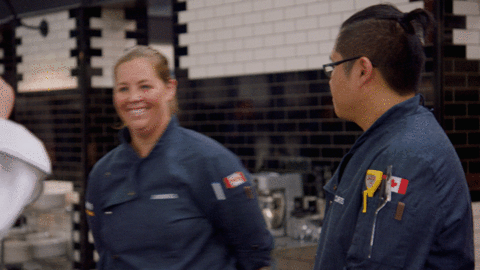 Andrea, we know you didn't mean to freeze Curtis out over that conciliatory handshake when he beat your mother sauce in front your mentor John Higgins, but um, #AwkwardTurtle much?
5. Hating the Idea of Facing Your Past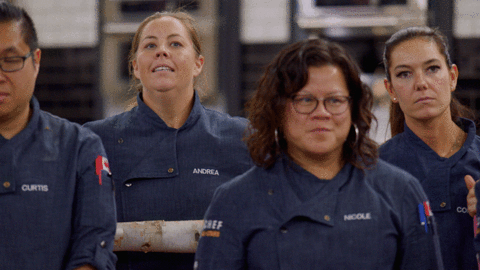 We mean… would you want to cook for Lynn Crawford again after she previously called your Italian Wedding Soup a divorce before the wedding?
6. When You're Too Excited to See That Not Everyone is Feeling You


A quick lesson in how to (not) make friends and influence people: Win a string of immunities and then have THE BEST TIME prepping your dish in front of the other chefs competing for their lives.
7. Being a Fanboy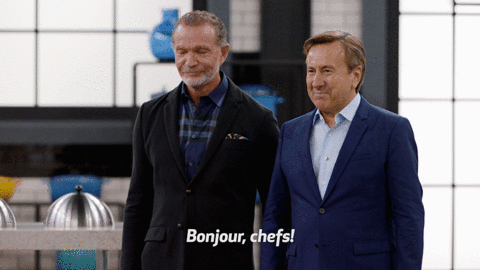 We totally get it: Daniel Boulud is the real deal, and cooking for him is stomach-dropping scary. To be honest, we're actually kind of proud of Dennis for not fainting when he heard that he'd have to whip up a fancy French dish for one of his idols.
8.  When Someone Mentions Snacks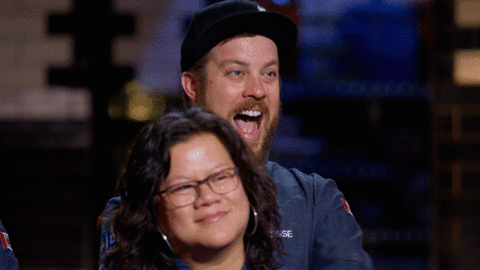 This is the only appropriate reaction when someone tells you that you have to create a Top Chef Canada-caliber dish using good old-fashioned beef jerky.
9. Needing to Smash Something. Now.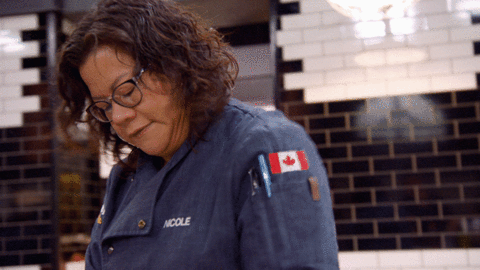 Sometimes when you're under an insane time crunch and your regular old knife just isn't smashing garlic the way you need it to, you have to resort to other measures. Like cathartic bottle smashing, for example.
10. I'll Have One of Each, Please.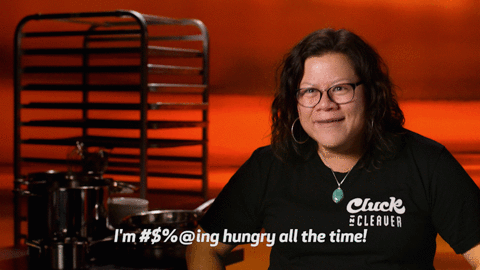 What would you want to eat the night before a big battle? Not one, but two dishes: Spaghetti Puttanesca and Grilled Steak with Salsa Verde. Heck, why not make it three? We're not driving. Now that's a girl after our own heart.
11. When You Make Something DE-LI-CIOUS.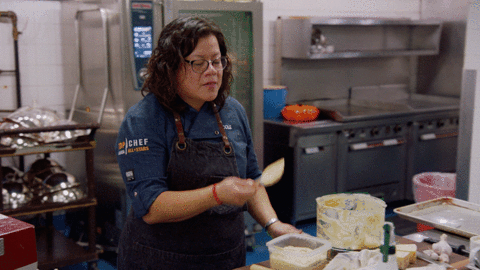 It's okay Nicole, if we made tortellini that good we'd probably be licking the spatula clean, too.
12. It's All About Family.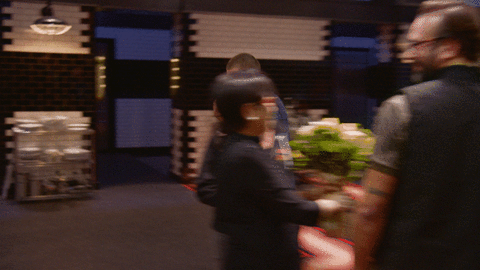 As Mark McEwan told us, this thing was Dusty's to lose. And while the disappointment of actually losing it was obviously in every inch of his body language, there was one pretty nifty thing in store: hugs from his wife and baby girl, whom he missed so much this season. And in the end, isn't that the best prize of all? All together now: Awwwww.