Game on: A spot in the Top Chef Canada: All-Stars finale came down to the competitors knowing their way around wild game and a grill. The grill is easy to master, and eager Canadians cook this way year round. Game meats, on the other hand, are tricky. Unlike beef, pork and poultry, game meats are incredibly lean and, therefore, easy to overcook, which means the difference between a juicy piece of meat and something akin to cardboard are not far apart when it comes to grilling.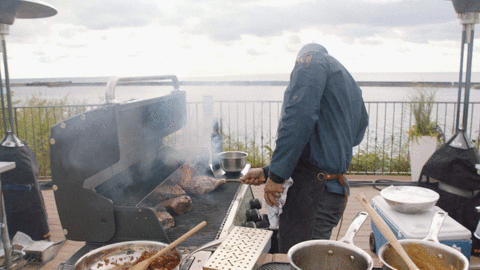 Dennis Tay grilling up bison in Episode 9.
Keep a few tricks in mind when throwing these on the grill and you'll have a winning meal. First, let's break down the three most common game meats — cooked up on last night's episode — and some of their best cuts.
Bison, the most common game meat, is easily found in butcher shops and even chain grocery stores these days. In the winter, braised short ribs or slow-cooked roasts are the way to go, but tenderloin and striploin steaks are where it's at for summer grilling. Of course, the richly flavoured meat also makes a fine burger.

This bison steak looks very similar to a beef steak.
Like beef, bison steaks are great when grilled. Try this recipe for Grilled Bison with a White Currant BBQ Sauce.

Grilled Bison with White Currant BBQ Sauce
Short ribs aren't just for slow braising in colder weather. Bobby Flay shows how to grill up some sweet and spicy bison short ribs, complete with a matching barbecue sauce. Get Bobby Flay's recipe for Spice Rubbed Bison Short Ribs with Orange Honey Chipotle BBQ Sauce.
How about a surf and turf bison burger, topped with crab and a spicy banana pepper jam? Get the You Gotta Eat Here! recipe for the Wild Fennel Bison Burger.



Wild Fennel Bison Burger
Venison — meat that comes from deer — is often thought to be quite, well, gamey. Meat from wild deer does tend to be, but that from farm-raised venison, which is what we see in butcher shops, is less so. The flavour can be beef-like, but is generally richer. Incredibly lean, when it comes to grilling, it's best to stick to steaks or the tenderloin.

This venison steak is extremely lean and has a rich red colour.
Simplicity showcases the meat at its best with this straightforward recipe for a rack of venison. Get Martin Picard's recipe for Grilled Rack of Deer with Rosemary.



Grilled Rack of Deer with Rosemary
Summer isn't the same without at least one round of burgers on the grill. Switch out the standard beef for venison for this recipe from You Gotta Eat Here!
Boar is similar to its relative the pig, in both flavour and texture. The difference is that the meat tends to be darker in colour and is slightly richer. A larger animal than its pig counterpart, expect bigger cuts. Chops are great for grilling.

These look like well-sized pork chops but they're actually wild boar chops.
Elk, although not one of the ingredients the final four chefs were tasked to cook with, it's also a great game meat. While similar to venison — cooking tips are the same for both — elk has a cleaner, almost slightly sweet, flavour. Its meat is dark red, almost like beef, and very tender. Roasts and steaks are some of the best cuts.
For an elk loin, Top Chef Canada Season 2 winner Carl Heinrich uses the technique of roasting the meat in the oven before transferring to the grill. Get Carl Heinrich's recipe for Roasted Elk Loin.

Carl Heinrich's Roasted Elk Loin
Because game meats are lean, the main trick for grilling them is not to cook past rare or medium-rare. When cooked past that point, the meat will become dry and chewy — not a Top Chef Canada-worthy result. For venison and bison, that means taking the meat off when it has an internal temperature of 120°F to 125°F; wild boar should be removed from the grill at 145°F.
Starting the meat in the oven with a quick roast, then using the grill to get that signature flavour and markings are a good way to keep the meat from overcooking. As is brining or marinating first, using wet rubs or wrapping game meats in bacon, which will help keep them from drying out.
Looking for more ideas? Learn the rules of the game from our 11 Tips for Grilling Great Game Meat.