Women have come a long way, but when it comes to Top Chef Canada, we're still waiting for a female chef to be crowned Queen of the Monogram Kitchen. A pretty peeved-off Nicole reminded us of that fact as we geared up for another balls to the wall episode of the All-Stars season on Sunday night, pointing out that it was up to her and Connie, now that the other women have packed their knives and left.
Apparently Nicole has every intention of making sure she's the first female to the top, because now that she's had a taste of the bottom, she's adamant about not landing back there anytime soon. Her terrible dessert last week basically brûléed a fire under her butt, and the Tasmanian Devil was back in full force, guys. She's all about winning the Quickfire prize money AND the show itself, thank you very much.
Speaking of Quickfires and prize money, this week it was three grand on the line when Eden asked the Top 6 to approach a lavish spread of  ingredients, and pick three they wanted to use most for their next dish. Obviously this was a trap, because it's never as simple as just picking yummy food and creating an awesome dish. Not on this show, anyhow. So sure enough as soon as the ingredients had been selected, guest judge Doug Quint, more famously known as the owner of Big Gay Ice Cream, stepped into the kitchen and revealed to the chefs what they were really up to: ice cream.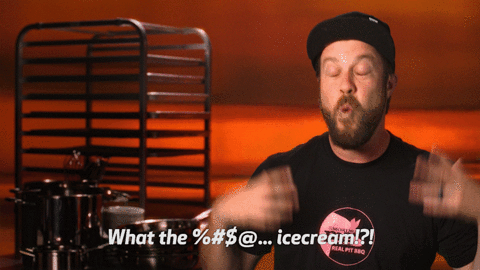 Seriously, will the dessert torture never end for these guys? Could Eden have pulled out a more diabolical laugh? With ingredients like garlic, cauliflower, beer and foie gras in hand, this may have been the first challenge where we would have rather dove into a bag of chips (more on those chips later) than tasted what the chefs came up with.
But that's why these guys are All-Stars, lest we forget. Naturally, they took lemons and made…limoncello ice cream. Okay, so not quite, but Dustin completely froze out the competition with his "Foie-Rero Rocher" ice cream of foie gras and hazelnut with honey roasted plums and balsamic. Taking some CO2 to his concoction before freezing it was genius, as Nicole pointed out. If he could make fatty liver taste like a delicious ice cream, well, maybe we should just give him this competition now.

Dusty's "Foie-Rero Rocher" Ice Cream: Foie Gras and Hazlenut Ice Cream, Honey Roasted Plums and Balsamic
He was Quint's clear favourite at any rate, and his win finally ended Nicole's prize money streak. Mind you she came pretty close to first with her garlic and coppa ice cream, with candied coppa and salted caramel. Heck, transforming garlic and meat into a yummy frozen treat sounds pretty impressive too. Way to nail that meaty consistency, Nicole.

It makes perfect sense that Dusty (and his smile) would win the prize money from Sensodyne.
What didn't impress Eden and Quint was Jesse's cheesy ice cream with strawberries and Parmesan tuile; watching Eden's face while tasting that dish made up for her evil laughter from earlier. Connie's "Corn Surprise" that came with candied bacon and a cheese tuile wasn't the most delicious offering either according to Quint, and we think the criticism really threw her off her game heading into the Elimination Challenge. You could say she went into it with a chip on her shoulder.
But before we get there, we need to point out that of all the Elimination Challenges so far, this one may be our absolute favourite. Why? Well, the chefs were told to create a late-night eat. You know, the thing they wanted to most mow down on after a long shift late at night. It's like the challenge makers wanted to make us all a little extra hungry this week as we imagined what the over-the-top calorie-laden offerings would taste like. Hosting the entire thing in Toronto's secret subway station and having chef Grant van Gameren – a guy known for his late night tasty snacks – stop by to sample the fare was just icing on the dessert-free challenge's metaphorical cake.

Grant van Gameren (left) with Mark McEwan
Our inner gluttons were salivating the entire time these chefs were prepping. With $400 in the bank and their creativity set free, these guys and gals definitely had fun with their dishes. Well except for Trevor, who initially drew a huge blank because all he eats late at night is salad (yawn). Thankfully, he then remembered that he makes a kick-ass steamed bun with pork belly and so he saved himself by impressing the judges with his bun-steaming skills. Equally impressive were Dennis's shrimps, which had the judges raving and Mijune dancing. (Yep, she was actually dancing in the subway.)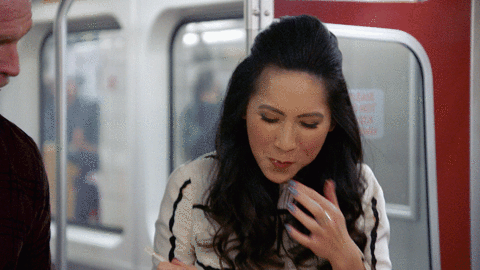 "It was just like a flavour bomb there was so much going on. It was like umami, like he really knocked that out of the ballpark," she told us later.

Dennis's Fried Shrimp with Singapore Chili Sauce and Green Garlic Butter Rice Noodles

Dusty's Eggplant Double Down: Eggplant Parmesan, Buffalo Mozzarella, Tomato Sauce and Roasted Piquillo Pepper 

Nicole's Shrimp Cake with Ginger Scallion Pistou, Rice and Coleslaw

Had the rice noodles underneath been just as impressive, Dennis probably would've won. As it stood, we figured it came down to Dustin's meaty vegetarian eggplant dish that had Chris Nuttall-Smith grinning and raving at the Judges Table like we've never seen him light up before (he called it a "disgustingly delicious dish" and compared it to mad scientists trying to trick people into eating all of the eggplant).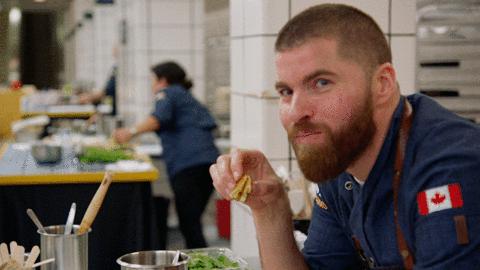 When you know your sandwich is damn good…
Nicole's smoky and flavourful Prawn Cakes proved to be one step better though – just like that she was back at the top of her game as she was announced as the night's big champion. What a comeback kid. Can we all just please break out a slow clap? From last to first is pretty damned impressive.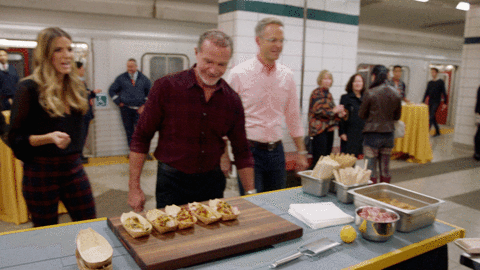 When your dinner guests arrive and you're trying to act like you're ready…
Anyhow, with those four at the top that left Connie and Jesse by their lonesome selves at the bottom. For Jesse, the judges hated his moose poutine and pretty much called it inedible, but for them what was even worse than a poorly executed dish was one that looked as though the chef just didn't try. And this finally brings us to those aforementioned chips. Sadly, by creating a dill "chips and dip" dish as her late night eat, Connie definitely left the impression that she could have done more. Mark McEwan said it best when he explained that the chips were great, but that they were something he'd expect to eat for free while waiting for his actual late night eat. That put the judges in a bit of a (dill) pickle when it came to deciding who went home: the chef that made a too rich gravy with too strong cheese and drowned his fries, or the chef who delivered… well, chips?

Connie and Jesse hug it out when finding themselves facing elimination.
Turns out the latter was a bigger sin and poor Connie, who obviously had a lot on her mind this season with her sick mom, was sent home.
"I know Connie wanted it so bad and she's a fierce player and she's super talented and so I was hoping more from her as well," Pak said afterwards. "But I know that she was going through a lot of personal stuff at that time and it was maybe distracting her a little bit. Her heart wasn't fully there, perhaps."
"The worst part is just feeling like I disappointed a bunch of people," Connie revealed afterwards, noting that she was originally going to do a poutine but then changed her mind when she found out Jesse was doing one. "Today it's what I didn't do, because I didn't make a dish that was substantial enough and I think the judges felt like I wasted my time in the kitchen. It sucks because I just took a risk with this dish. I never cook dishes that I'm not comfortable with so I took a risk and it wasn't a good decision. There's a lot going on at home and I'm just not in a good place."

Connie's face showed the doubt she felt during the Elimination Challenge.
"I think Connie didn't necessarily perform to the level she could have performed at through the competition," Nuttall-Smith said. "She had some bad luck, you know, she had some stuff going on that I think made it hard. I would have loved to see her do better."
"She was the one I thought was going to take it. It just goes to show you, where your frame of mind is at any point in time is either your friend or not," McEwan also revealed later on. "Connie was there, but she really wasn't there with us, unfortunately. I think it was just bad timing for her in a bunch of ways and she really didn't show her true potential there."
You didn't disappoint us, girl. We're with you 100 percent.
For now though, the competition is getting stiffer than a bowl of overbeaten egg whites. We're down to the Top 5 heading into next week, and who might go home next is anyone's guess.
Want more from Episode 7?
Watch these bonus scenes:
Jesse and Morimoto Making Ice Cream