You know who else was shocked by Andrea's elimination last week? Every. Other. Chef. Yup, Top Chef Canada: All-Stars was back with a new episode on Sunday night and the remaining competitors were pretty freaked out that an early front-runner had left the competition so soon. Connie even had a bad dream about Judges' Table as an indirect result of it. But let's be honest: the chefs were freaked out but also probably slightly relieved. Because we all know that the master plan in doing this show is to eliminate the competition, one by one. Mr. Burns, rubbing his fingers together muttering "excellent," styles.

Josh Elkin (left) with Eden Grinshpan
But on Sunday night there was other business to attend to first: namely the chefs had to jerk around. That's right, the night's Quickfire Challenge revolved around everyone's favourite road trip snack: jerky. Guest judge Josh Elkin, A.K.A. the Sugar Showdown host who's known for being creative with his culinary quests, joined Eden Grinsphan in a Krave Jerky cook-off in which the chefs had to incorporate the beefy snack into an appetizer. Cue the awesome train of facial reactions, ranging anywhere from utter disgust (oh, hey Dennis) to delight (what up, Jesse?). Oh, and did we mention there was a $5,000 prize on the table? We could practically see Nicole's eyes light up.
So what did cooking with flavoured jerky entail, exactly? While we probably would have hid in the corner and stuffed our faces with the stuff, rugged outdoorsman Jesse opted to rehydrate a pot of jerky in order to wrap it around some scallops and white asparagus. (Side note: we don't care how great white asparagus tastes; it does not photograph well. Can we all just please agree on that?) Unfortunately, his plan didn't exactly pan out when the jerky became gross and soggy, and he had to go with a backup Jerky Coated Scallops with his poached asparagus instead.
Sadly the dish failed to impress Josh, as did Connie's Vietnamese salad and Dennis' Jerky Pork Dumplings, which he meticulously crafted. We actually felt kind of bad for the guy; he worked so hard on that dish and was clearly upset to fall into the bottom (especially for something small like using too much soy). Dennis has got to be in for a revival in the near future, we can feel it in our jerky-loving bones.

Nicole's Arancini with Sticky Rice and Jerky 4 Ways
On the other end of the spectrum Trevor knew how to play to his audience and created a riff of a Jalapeño Popper that we would totally order in a bar. His strategy of a swank-free plate earned him a spot in the Top 3, but it wasn't enough to edge him into a win. Dustin seemed to take the opposite strategy and transformed a Beef Tartare via pickled jerky, but while that also impressed Josh it was Nicole's "balls, balls, balls," or what was more properly known as Arancini with Sticky Rice and Jerky 4 Ways, that impressed the guest judge most.
So Nicole walked away with yet another cash prize. Shocker, right? At this point she's won so much money she almost doesn't even need to win the show. We wonder if she did end up giving Trevor his requested thousand bucks. Are sharesies even allowed on this show?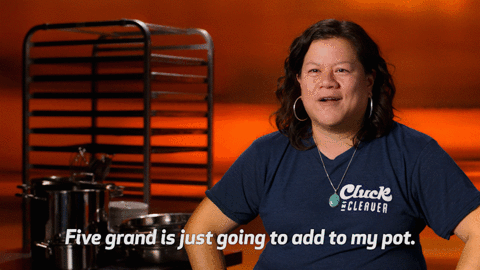 Anyhow, you can't really blame Nicole for feeling on top of the world, or assuming that she had this thing in the bag. After all, as she pointed out to the cameras at one point she's never actually been on the bottom. Which meant that the tide was about to turn, or the sauce was about to thicken… or whatever the culinary equivalent of that expression would be.
So with the Quickfire behind them and immunity no longer on the table the chefs were asked to get patriotically creative with Canada's 150th birthday for the Elimination Challenge. The show, in turn, got creative too and swapped out the traditional drawing of the knives for a drawing of the history books. Each chef had to pick a book that represented an important piece of Canadian history and then create a dish (an appetizer, entrée or a dessert) assigned to that moment.

We're not surprised this was Curtis's reaction when Eden mentioned book reports.
Obviously the chefs who drew desserts—Nicole and Connie—were less than impressed. "Chefs don't want to do desserts, that's why there's pastry chefs," Nicole lamented over her selection. Um, to be fair, didn't Nicole just wow the judges with her riff on a carrot cake that she made of her own volition in the last episode? Yeah, we thought so.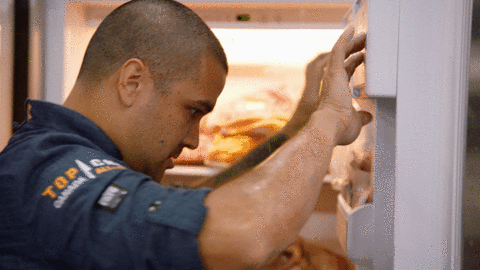 When mere mortals are feeling stumped in front of the fridge they just end up ordering a pizza.
Either way, with the tasks assigned and the 15-minute shopping frenzy at McEwan foods done, the chefs had the prerequisite two hours to prep in the Monogram Kitchen before heading to this week's hot spot, the ROM. There, guest judge Jeremy Charles and guest taster Ken Lister joined Mark McEwan, Mijune Pak, Janet Zuccarini and Eden at the table for an all-around Canadian feast.

Jeremy Charles ready to taste Canadian History.
Dustin, who grinningly pulled the Gold Rush and had no idea what to do ("Do I look like a history buff?") impressed the entire country yet again with his Cod Fritter Stuffed with Quail Egg. Between the flecks of gold on his plate and the golden hue of the runny yolk the judges definitely awarded the plate a gold star. Meanwhile Dennis's comeback and Trevor's resurgence were also present-day themes of historic proportions when the latter's Red Fife Fry Bread impressed a raving Mijune and the latter's Striploin was perfectly executed in puff pastry with a "150" carved into the side. Oh Curtis. And here you thought it was going to be cheesy.

Dustin's Cod Fritter Stuffed with Quail Egg, Baked Cod and Sea Buckthorn Vinaigrette

Trevor's Roasted Striploin with Mushrooms, Pearl Onions and Porcini Foam in Puff Pastry

Dennis's Birch Syrup Bison Carpaccio, Sea Asparagus, Pickled Ramps and Red Fife Fry Bread
In the end it was Dustin's dish that won again, leading to another megawatt smile from the fan favourite. (Seriously, that guy could power his own kitchen.) And with Connie's Apple Crisp with Candied Bacon landing in the middle of the pack, that left Jesse's (Not-So) Braised Short Rib, Curtis's Roasted Cod and Nicole's Apple Rhubarb Compote as the worst dishes of the night. And here Nicole thought she was "killing it." Whoops.

Never say never, Nicole.
As conflicted as the judges were at all of the dishes, it was Curtis's over-thought plate that stood out as the worst. He obviously had a feeling he would be sent packing, which is maybe why he told his fellow chefs that "feeling good is for stupid people" during the challenge. His confidence just never got there and he kept over-thinking all of his plates.
"If we're going to go by my feelings, I knew there were certain issues I wish I could have solved," Curtis said following his exit. "I was certainly disappointed that I didn't execute every aspect as I exactly wanted to. You almost always mentally prepare yourself to be sent home. Now that I've been through Top Chef Canada twice, it's perhaps not my greatest strength in terms of the environment or the context of how we compete. But that doesn't mean I didn't want to win more than anyone else."
"What I love so much about Curtis is he's not your typical chef… He never went down the normal route," Eden revealed to us afterwards. "He gave us something that was always unique and calculated in his own way. Sometimes it really worked out. Sometimes it didn't, but sometimes it really did."
"I always call Curtis the mad professor," Mark told us later. "He really has a process that he goes through mentally when he does a dish. I don't always get it, but the stories are good. Oftentimes, they work, but I think Curtis would do better if he just had a slightly less complicated theory, in terms of how he lands on the plate. He really tries to have a lot of different formulas going in one game and sometimes it gets to be a bit much. Oftentimes, his textures were just not there."
Textures or not, it was another rough exit for everyone involved. We'll miss Curtis, his bromance with Trevor and that wicked slick ponytail. But as they say the show must go on.
Watch Episode 6 Bonus Scene: