When you're a chef who has spent your entire life perfecting the food you present and your dishes are essentially your soul on a plate, it's easy to question your own value or worth when you do a competition like Top Chef Canada: All-Stars. How could you not — given the constant critiques and top-notch competitors that constantly force you to up your game. At some point, you may or may not want to curl up into a ball with a bottle of wine or the biggest pint of ice cream you've ever seen in your life. Rocky Road might be an appropriate flavour, judging by this week's episode.
Head judge Mark McEwan seemed to realize this at the beginning of the episode, because with just eight competitors left and heavyweight Trista sent packing, he stepped into the locker room to have a little heart-to-heart with the finalists. "There's no knives, right?" he joked before sitting down and telling everyone to try and pick themselves up. Easier said than done, Mark. Easier said than done.

Daniel Boulud, left, with Mark McEwan.
Of course it's hard to feel too sorry for yourself when you get the chance to cook for a world-renowned chef as a little pick-me-up. And that's exactly what happened when Daniel Boulud stopped by the Monogram Kitchen to help Mark execute the Quickfire Challenge, when pretty much everyone geeked out over his appearance. The French chef (who just so happens to have more than a dozen restaurants around the world), stopped by to make his favourite dishes for the contestants, who were then paired off and tasked with recreating them. The catch? (Isn't there always a catch?) They had just 60 seconds to taste Boulud's dishes… and they were blindfolded. It was a crime, to be honest, watching these guys manhandle the beautifully presented plates and not be able to actually enjoy the elegant food. Man, competition is fierce.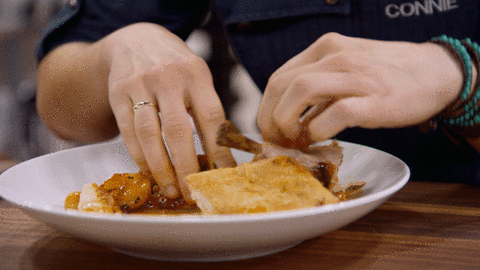 Seeing a dish treated like this just hurts.
For their part, Trevor and Dennis drew Steak Tartare, garnished with some lattice-cut potato chips that we're still dreaming about. While Dennis' first instinct was to do an Asian riff on the classic, he got in his own head and opted for a rustic take instead — a move he fully regretted when Boulud revealed he had been hoping for an Asian influence. And so the mini-victory was handed to Trevor and his more refined version instead.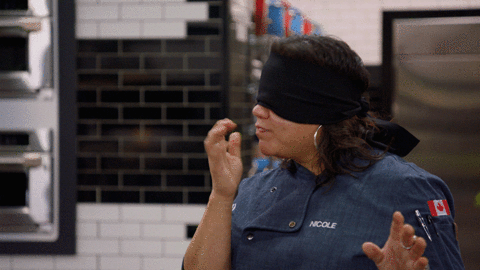 Nicole might be having the most fun this season.
Meanwhile, Dustin triumphed over Curtis with his take on a Mussel and Cauliflower Velouté (Mother sauce alert!), Jesse took down Connie with his riff on a Poulet Chasseur, and Andrea squared off against Nicole in a battle of Cod Basquaise. Speaking of, apparently Boulud makes such a perfectly cooked cod that it actually tastes like sablefish, because that's the protein both ladies chose for their dishes.

Go ahead, Andrea. You totally deserve that smug feeling after beating Nicole.
In the end, it was Andrea who edged out Nicole when the latter missed the peppers in the dish, but she also wound up winning the overall Quickfire — her second win so far this season. Given the building tension between Andrea and Nicole, which started last week when Nicole won back-to-back Quickfires and then basically couldn't stop talking about it, it seemed like a pretty personal win for Andrea. But you know, receiving the praise of a world-renowned chef will do that do a gal.

Andrea's winning dish based on Daniel Boulud's Cod Basquaise.
However, there was another twist this week: with the competition narrowing down, this was the first time winning the Quickfire didn't come with immunity. Instead, Andrea became a team captain for the Elimination Challenge, and her advantage was to pick her opposing captain. This was our first clue that the rest of the night wouldn't necessarily go so well for our girl crush. But we're getting a little ahead of ourselves here.
Andrea automatically picked Curtis to head up the other team, explaining to the cameras that she didn't want to work with him in the upcoming challenge: Retail Wars. That's right, Restaurant Wars are out this time around, and a new challenge, in which the chefs were asked to prepare on-the-go products, is in. Sorry Dusty, we would have loved to have seen those menus you've been dreaming up.


Regardless, in the end, Andrea selected Dustin, Connie and Dennis to be on her team, Global Goods, while Curtis chose Nicole, Trevor and Jesse on his team, Nosh Urban Eatery. Mark announced that this week's special guest judge would be non other than Italian retail queen of Eataly, Lidia Bastianich, and with that the chefs were off to McEwan Foods where they had 15 minutes to shop and $150 each in their Interac accounts. We don't know about you, but it takes us 15 minutes to find parking when we go grocery shopping — grabbing all of your ingredients in that kind of a time frame has got to be stressful.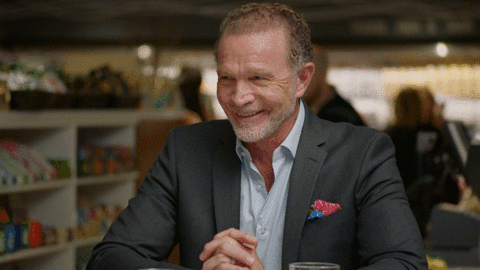 All the judges were besotted with Lidia Bastianich, even tough-guy-but-he's-really-a-softie Mark McEwan.
Not as stressful as working on a team that doesn't gel, mind you, and it certainly looked as though the Nosh folks weren't exactly having a cohesive night. Between Curtis's mess of a mise en place and Nicole's Tasmanian Devil coming out in full force, there was a lot of yelling and near-accidents to be concerned about. Meanwhile, it was The Get Along Gang over at Global Goods, where it looked like Andrea's background in retail with her Killer Condiments line and marketing experience would all but ensure a win.

Lidia Bastianich with Eden Grinshpan and Janet Zuccarini judging the chefs' Retail Wars to-go offerings.

Andrea's seafood salad looked elegant and creative, while her giant Mozzarella-Stuffed Veal Meatballs had us salivating (how do you pronounce "mozzarella" anyhow? The judges had us second guessing ourselves). Meanwhile Dennis' Compressed Watermelon Salad was gorgeous, Dustin's Black Currant Pate as the impulse buy was fancy-schmancy, and Connie's Garlic Dressing for her Tuna Conserva looked like something we'd slurp up with a spoon. As it turns out, there's a reason we eat with our eyes first, because while all of those dishes looked killer, they were all among the judge's least favourite offerings of the night. That's right, those dishes were the worst and everything we thought we knew is a lie.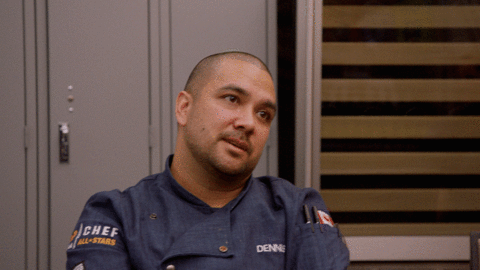 That exact moment you find out the other team won…
Further proving that fact was the praise that Nicole's impulse buy, A.K.A. the heavy-looking Pineapple Carrot Cake with Brown Butter Frosting, received from the judges. While we would probably never impulsively buy that cake ourselves going on looks alone, we totally underestimated the power of brown butter. In a frosting, no less. Judge Janet Zuccarini called it the best carrot cake she'd ever had.
"It's such a simple and ubiquitous dessert that I almost feel slightly embarrassed at my reaction," Zuccarini told us later. "I still think about it today. In fact, I'm going to see if I can buy that recipe off her to use in my Jamaican restaurant. It's such a simple, almost pedestrian dessert, yet I just can't believe how delicious [it was]. At the end of the day, delicious is delicious. And that was delicious."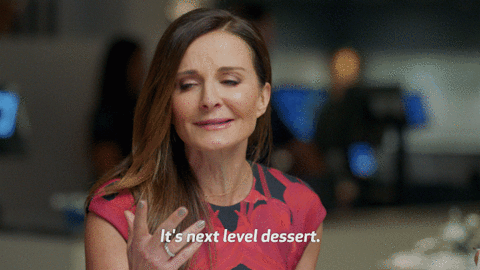 Meanwhile Nicole's Panang Curry was equally praised, which meant that she wasn't just the night's overall winner — she also got to walk away with the $10,000 prize. Add that into her $2,000 winnings from last week and this Tasmanian Devil has a nice little nest egg going on. She should really be buying everyone drinks.
With Nicole on top that could only mean Andrea was on the bottom. Those two are kind of like the kitchen equivalent of Joan Crawford and Bette Davis, only they're way nicer to each other. (They are Canadian, after all.) Anyhow, it brought us back full cycle to the second episode, when Andrea revealed that even though she had immunity, she wouldn't be surprised if a bad dish sent her packing. Well, with no immunity to protect her and two dishes that failed to impress, the judges had no choice but to send her home in a shocking turn of events. It really was (meat) balls. Especially since Andrea — who used to work at Zuccarini's Trattoria Nervosa — is so renowned for her delicious pockets of meat.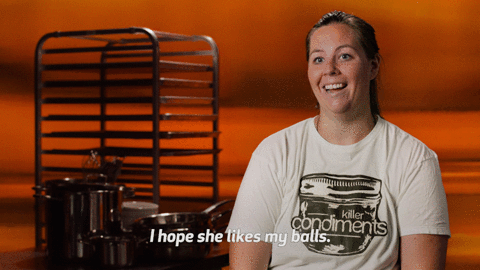 We're just going to leave this here. 
"I still use her recipe for meatballs at my restaurant, she's almost known for her meatballs," Zuccarini said later on. "And she lost on making meatballs. There was some kind of complication with timing on that dish, but I could not believe she lost on meatballs."
Us, either. And for those keeping track, that makes two early front-runners gone faster than we can say "a la cuisine!"
"I'm devastated and shocked… I mean I've been doing really well. So to be kicked off on a retail challenge is super brutal; it's what I built my business on so it sucks," Andrea said afterwards. "I'm not happy with it because I've been on the top so long. To come to the bottom and just be kicked off, it really hurts. It's a really hard pill to swallow."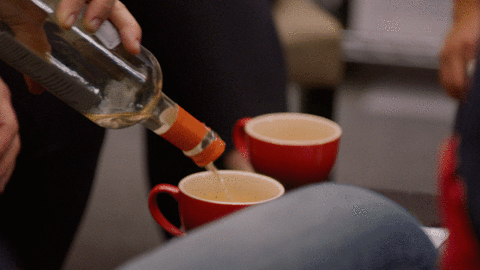 We so feel this.
"Andrea had amazing days, like she was blowing my mind with what she was cooking and then in retail wars she made a soggy seafood salad" Mark told us. "I felt bad the way she left… it was tough. It just wasn't her day and someone had to go. Those decisions are never clear and they never sit very well. I've felt bad about that."

Andrea's red team Global Foods at their reckoning in front of the judges.
"A lot of criticisms were pretty hard… Chefs have bad days and today was a bad day for me. I still really stand behind the food I produced today and I'm proud of that," Andrea, who just opened Butchie's restaurant in Whitby, Ont. added. "I've shown some really amazing dishes, I've been on top for 90 per cent of the challenges. So I'm proud of what I've done but I would be much prouder if I was in the finale. I'm a fierce competitor and I want to win. Not winning hurts to my core."
As for us, we knew all bets were off the table heading into this thing, but Andrea leaving on the heels of Trista's exit was another blow. We're almost too scared to watch next week and see who goes home, but at the same time we're just oh-so-hungry for more.