The Fab Four. The Fantastic Four. The Ghostbusters. And now, the Top Chef Canada: All-Stars Top Four. Dustin, Nicole, Trevor and Dennis may be our new favourite squad in the kitchen. Now if only they were all on the same team to fight hunger and squash appetites across our great land, rather than competing against one another for the title of Top Chef Canada.
For now we'll have to be content with these finalists fighting the good fight solo… or at least with a little help from some other notable all-stars. That's because no penultimate episode of a reality series is complete without looking back at the past, and in the case of this culinary contest that meant bringing in the past four winners for some help in the Monogram Kitchen during the Quickfire Challenge.

L-R: Dale McKay, Carl Heinrich, Matthew Stowe, and Rene Rodriguez with Eden and Mark.
The task at hand? Create as many All-Stars caliber dishes as possible in a mere 35 minutes. Our former winners went back to their roots and served as sous-chefs for the top four in the glutinous battle, which seemed destined to-be, despite the random drawing to determine the pairings. Luscious-locked Rene Rodriguez was back and a perfect match with Dennis's independent style; the pair banged out three presentable dishes together. Season 3 winner Matthew Stowe was finally able to return a favour and help Nicole present three entrees after she helped him with his path to the championship back in the day. Meanwhile Trevor was reunited with second-season winner Carl Heinrich where they worked better than Batman and Robin to pump out six passable dishes that were "perfectly seasoned" according to Mark McEwan. That left Dusty and Dale McKay, our #BeardedBros to cobble together seven dishes—six of which were deemed All-Star worthy.

Dusty and Dale with their beards.
It's a good thing these guys don't have to do their own dishes because everything in our "clean-as-you-go" fibers was screaming at the… well, the screaming and general running around that was happening. Appliances were flying, chefs were sprinting and chaos ensued. Nicole was screaming nonsense and the contestants may have forgotten to scream "behind" more than once. (We miss you, Curtis.) Forget whichever poor sap has to do all of those dishes at the end of the day; we're surprised no one lost a limb.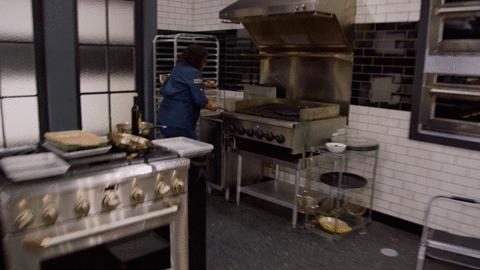 Classic Nicole.
Anyhow with a tie in place the challenge came down to what it should always come down to: flavour. And with his tastebuds still singing, Mark easily awarded the winning title (and $3,000 from the Monogram Kitchen) to Trevor, who is quickly gaining momentum heading into the finale. Obviously, Nicole and Dennis were pretty angry at themselves for not doing more while Dustin was probably wishing he stroked Dale's "old-timey moustache" a little for good luck.

One of Trevor's Six Top Chef Canada-caliber dishes: Slow Cooked Salmon, Hollandaise and Roasted Asparagus.
With their duties officially out of the way the four winners bid the chefs adieu for now, switching from kitchen elves to tasters for the Elimination Challenge. It was a contest more weighted than most, since this was the last hurdle before the finale; whoever went home was probably going to be kicking themselves for the foreseeable future. No one wants to be the guy who went home before the end, especially when you've been concocting dishes for the finale in your head for the past few weeks. But we're getting ahead of ourselves here.
For this week's Elimination Challenge, the final four went back to the classic drawing of the knives to determine which game meat they'd have to prepare and serve family style for a group of 10. (And yes, we could feel Jesse face-palming from the sidelines over the fact that he was eliminated right before a game challenge.) The catch? The dish needed to be prepared on a grill, by the lake of all places at Toronto's Palais Royale. How very Canadian. Ah yes, and because grilling venison, bison, duck and boar through the Canadian winds and uneven heat wasn't challenging enough, the chefs had $150 and 30 minutes to frantically run through Kensington Market and find their ingredients. It was like watching the Tough Mudder of grocery shopping—who knew you had to have a certain level of physicality in order to cook?
Oh, and because the pressure of cooking to get into the finale wasn't enough on the line, there was also a huge trip to Beringer Vineyards in California at stake for the winner. That's right, not only would he or she get to participate in the finale, but they'd be able to relax afterwards by sipping wine overlooking a Napa Valley sunset with a loved one. Heck we'd sign up for that any day of the week.
Knowing all of that, the chefs got to grilling for their table of 10: judges Mark, Mijune Pak and Chris Nuttall-Smith, along with host Eden, guest judge and James Beard Award-winner Normand Laprise, and guest-tasters Steffan Howard, Dale, Carl, Matt and Rene. Now that's a dinner party!
So with the wine flowing and the plating precariously presented, everyone dug into the "wild dinner." Oh Eden, don't ever change.

Dustin's Grilled Venison with Birch-Glazed Apples, Mustard and Apple Jus
Dustin's Grilled Venison with Apples was deemed classic, delicious and "safe," while his pretty Potato Pave was a showstopper with all of its impressive potato layers. As for his Sweet and Sour Squash with Endive Salad, Brown-Butter Hazelnuts and Pickled Onions? The judges all agreed that it was a gamey dish they'd be happy to find on any menu.

Dennis's Whole Roasted Juniper and Cedar Bison Striploin
Next up was Dennis and his Whole Roasted Juniper and Cedar Bison Striploin. You could tell he was fighting hard to come back from the last hunk of meat he served tableside in this competition, which almost sent him home. Unfortunately he overcompensated and served meat that was too rare for some, although others at the table defended its cut. (Later, Mark would say Dennis got "lucky" with his piece of meat and that this wasn't necessarily a result of skill.) As for his sides? His grilled cabbage and creamed leeks didn't feel like a cohesive offering, and only served to confuse the judges in the end.

Trevor's Wild Boar Country Sausage with Brined and Smoked Boar Loin
As for Trevor, well he went into the challenge more confident than most, having just won last week's challenge as well as this week's Quickfire. He wanted to recreate a version of a pork dish he serves at his restaurant and so he went with boar several ways, including a Kale Salad with Grilled Boar Belly, Wild Boar Country Sausage and Brined and Smoked Boar Loin. Oh yes, and he had a Wild Mushroom Polenta to top it all off. Unfortunately his cutting board presentation—a self-professed "gamble"—really didn't strike the judge's fancy. Both Mark and Mijune were visibly disappointed there wasn't more on the plate, and no one was completely sure how to eat it or what went with what. From our couches it was hard to see the problem (we were eating the heck out of those sausage patties with our eyes), but then again we also think store-bought potato chips are the food of gods. Wait… or is that those little black salty olives from the olive bar?

Nicole's Brined and Smoked Cinnamon Duck Breast, Confit Duck Legs and Cherry Jus
Anyhow last but not least was Nicole, who had the difficult challenge of grilling duck—apparently that's the last way anyone wants to cook the bird, since the fat is kind of a huge fire hazard. (Perhaps the show should have come with a "don't grill this at home" disclaimer?) So Nicole showed some smarts and came up with a workaround instead: she smoked her duck breast on the grill with some cinnamon and paired it with confit duck legs. She then served the dish with a Cherry Jus,  Creamed Savoy Cabbage with Braised Chestnuts and Bacon, for an overall offering that was largely applauded at the table, despite the flabby duck skin.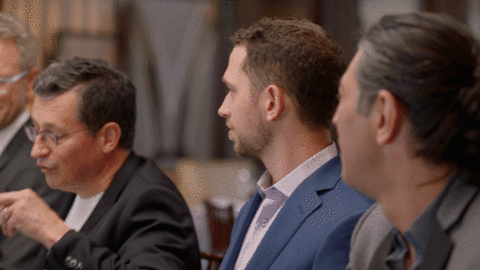 When Normand Laprise drinks your Cherry Jus straight from the pitcher, it's safe to say you're not going home.
Heading into Judge's Table it was pretty obvious which direction things would go. It turns out playing things safe was a good bet in this case, because Dustin was the night's overall winner. Unsurprisingly Nicole also joined him for a secure spot in the finale, meaning it all came down to Trevor and Dennis.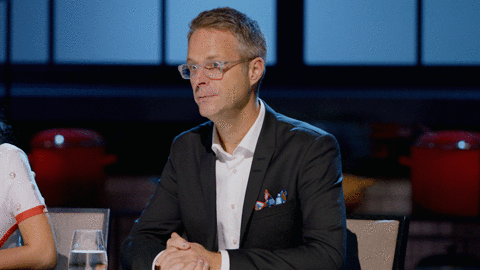 Mark and Chris can't believe what they're hearing from Trevor.
As the judges explained their reasoning and critiques, Trevor was all-around defensive, proving that even nice guys get snippy when they're tired and missing their family. This competition grills on you, guys. (Pun intended.) But while Mark didn't really like Trevor's "posture," he was quick to point out it wasn't a popularity contest and that this decision came down to the food itself. Sadly, that meant Dennis would not get his chance to cook a Filipino feast for the crowd in the finale, as his convoluted side dishes cost him the competition in the end.
"What a cool guy," Mark said as Dennis walked out to go and pack his knives. We thought so too, Mark. We thought so too.
"I'm pretty disappointed… The worst part is not executing under these circumstances. This was the biggest day and I just didn't produce. Being so close is a tough pill to swallow," Dennis said afterwards. "I hope people look at food a little differently after experiencing what I have to offer. I approach food to broaden people's minds. There's a big world out there with a lot of opinions and different ways to eat and enjoy. I hope people get that from me and what I'm trying to do."
"Dennis is one of the most likable young chefs you'll ever meet. He's always got this big smile on his face. He's incredibly modest. He's helpful with the other chefs, very genuine," Mark told us later on. "He's competitive by nature, otherwise he wouldn't be on Top Chef Canada, but he doesn't show that. We had some good moments with him and he leaves you with this feeling where you want to give him a big hug."
"Oh, my god, Dennis has such a fantastic perspective. He brings such incredible and really rare influences into his food, influences that you often don't find in kind of downtown Toronto fine cooking," Chris added. "That's one of the things that makes him such an exciting and interesting chef. He wanted so badly to do a Filipino feast for the finale and I would give just about anything to eat that food. He brings such a smart touch to just about everything he does… he's an artist who has been painting other artists' canvases throughout his career and I think as soon as he gets his own canvas, he's going to do something impeccable."
Until then we'll always have those crispy prawns. Good luck Dennis—we want to give you a hug, too.
Next week? The finale. Hard to believe we're here already, isn't it? Will it be Tasmanian Devil Nicole, Defensive Nice Guy Trevor or Smiles-For-Days Dusty? The countdown to the big reveal is on.
Want more Top Chef Canada?
Watch this bonus scene from Episode 9.