There have been more than few epic bromances in our time. Brad Pitt and George Clooney. Matt Damon and Ben Affleck. Chuck Hughes and Danny Smiles. But after watching the most recent edition of Top Chef Canada: All-Stars, we'd like to add Curtis Luk and Trevor Bird to that list.
Because this is a competition and all, it's easy to forget that many of these contestants are actually friends in real life. So it escaped our memories that Curtis and Trevor not only both competed in the second season of Top Chef Canada, but that they also worked together afterwards to open Trevor's Fable restaurant in Vancouver.

Season 2, Episode 6: No one looks this happy at judges table unless they had the best dishes.
So when the pair found themselves on the bottom of the competition after last week's Middle Eastern Feast, they took their "Walk of Shame" back into the Monogram Kitchen in a friendly fashion. So naturally we felt torn as to whether we should hug them or fist bump them; either way watching the chefs band together like that made us really, really want them to do well in this week's Quickfire Challenge.
Luckily, the duo proved the culinary powers of bromances are actually a real thing, and they did exactly that. Tired of being on the bottom, the guys buckled in and sucked up the night's Quickfire challenge better than most: create a memorable brunch.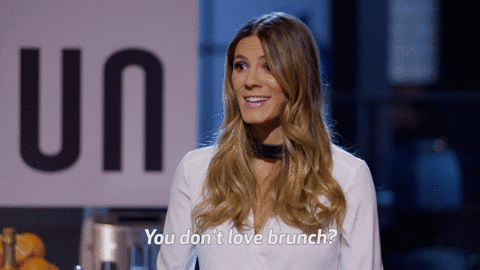 You see, as anyone who knows a chef in their life can attest, chefs hate (or in Trista's words "f—ing hates") the brunch shift. It can be repetitive, stressful and involves getting up at a ridiculous hour like 4:30 a.m. in order to serve it. It's basically the hell of all shifts for chefs, and so when host Eden Grinshpan announced that she and Brunch Queen, guest judge Maneet Chauhan, wanted the contestants to create an ultimate brunch dish utilizing a Braun multiquick hand blender… well let's just say it looked like a few of them wanted to knock back a few non-celebratory mimosas first.

Maneet Chauhan advising the chefs of the theme of the Quickfire Challenge.
Trista, who went into the whole thing with a self-professed negative attitude, attempted an updated Croque Monsieur with smoked salmon and béchamel that Chauhan thought tasted gummy, and it landed her at the bottom of the pack. Dennis, meanwhile, fulfilled the creative part of the challenge with his Filipino brunch of European bass and garlic rice, but an overly grilled fish was less than desirable to the judges. As for Jesse's potato pancakes? Well there was just way too much going on with that plate, which meant he rounded out the bottom three.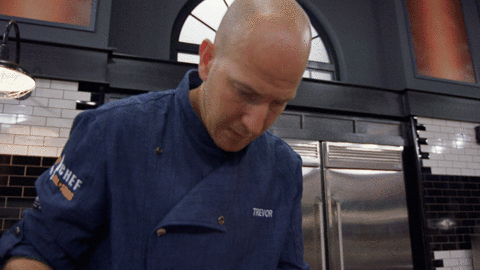 Be careful not to get a contact buzz, Trevor.
And that brings us back to our boys of the kitchen, Trevor and Curtis. The former really impressed us by smoking his own salmon on the coolest looking hot-box inspired smoker we've ever seen. His resulting Salmon Pancakes were a true highlight, elevated even further by the picked shallots and horseradish crème fraîche. Meanwhile Curtis made the most mouthwatering-sounding Shrimp and Grits, which were topped with a perfectly poached egg crusted in cornmeal. Please. Get. In. Our. Bellies.
Unfortunately for the guys but fortunately for Nicole, it was her riff on Pain Perdu with decadent almond croissants and cheesy duck eggs that made her the ultimate winner for a second week in a row. That meant she not only lucked out with immunity in the Elimination Challenge, but she also nabbed $2,000 from Braun and a De'Longhi Automatic Espresso Machine. Maybe Nicole can use it the next time she's got to get up early for brunch.
For now she's pumped up enough, it seems. Heading into the Elimination Challenge, the chefs were asked to create dishes inspired by some of Canada's great cities. And Nicole was obviously feeling pretty giddy since she had immunity and would automatically make the Top 8 next week. You know what they say about the view from the top though; it can be pretty lonely—especially when you keep reminding everyone else facing potential elimination that you have immunity. So you could forgive Andrea for not having any of Nicole's friendly banter while they were prepping their dishes, explaining to the cameras that she just wanted Nicole to shush and do her work already so that the rest of them could cook in peace.

You can almost hear giddy Nicole's cackle…
Maybe Andrea was a little crankier than she let on earlier in the episode, when she said the real Quickfire was having kids? Or maybe she just felt extra stressed out about Lynn Crawford being the guest judge of the night. The last time Andrea cooked for her in season one, she made an Italian Wedding Soup and Crawford said it tasted like a divorce before the wedding. Ouch.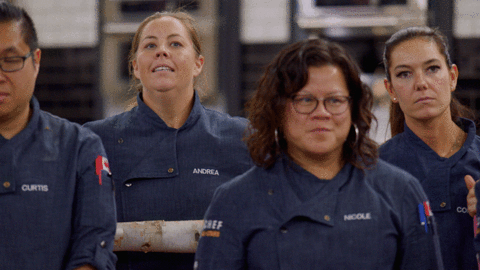 Andrea's feeling about the Elimination Challenge are a bit different than Nicole's.
It wasn't all animosity though; in fact it was pretty cool watching the chefs collaborate on their dishes despite only having 15 minutes to shop at McEwan Foods. With so many different palates from so many different regions, everyone was giving each other tips about their respective cities and flavour profiles… it was such a Canadian thing to do.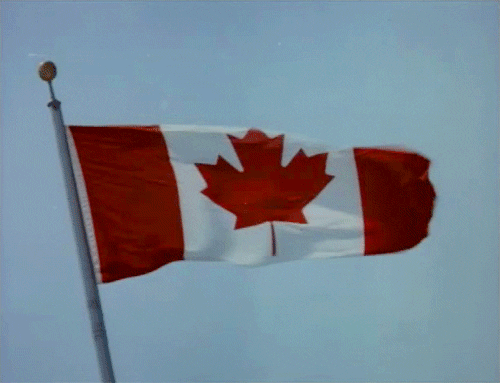 Connie, whose mom was diagnosed with stomach cancer and was given eight months to live, has understandably been off her game so far this season. But she too was in the "Walk of Shame Club" and also tired of being on the bottom, so she went into this thing intent on getting her groove back. When she drew St. John's as her inspiration city, she was determined to prove her worth and create a dish that would blow the socks off of Eden, judges Crawford, Mark McEwan, Mijune Pak and Chris Nuttall-Smith, along with guest taster Victor Barry who was hosting everyone at his swanky Toronto spot, Piano Piano.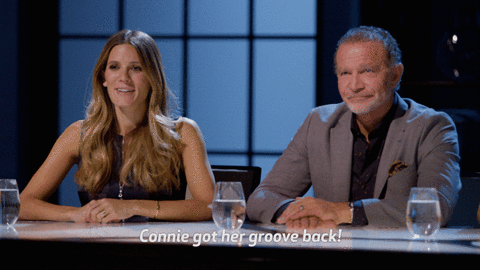 Blow their socks off she did, with a beautifully crafted marrow chimney on top of her St. John's-inspired Hunter's Pie. That plate could have been straight from a Tim Burton movie and made us just as giddy about the food as Eden. (Side note: Eden's sheer joy and excitement at sitting down to these dishes is infectious, even if we ourselves get to taste none of it.)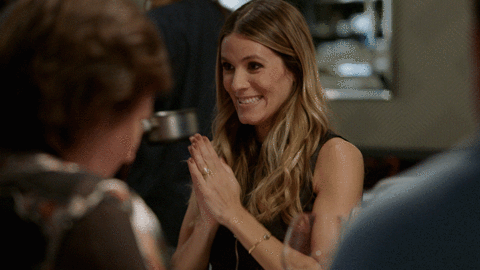 Obviously the concoction landed Connie in the Top 3, alongside Dustin for his Ottawa-inspired smoked duck and maple-glazed apple, and Nicole for her gluttonous Montreal meat pie consisting of bacon, duck and veal (Crawford confidently deemed it the best meat pie she's ever had, it was that good). At the end of the day the theme seemed to be repeat winners though, and so it was Dustin's dish—complete with that hot-box smoker contraption that Trevor used earlier in the Quickfire —that landed him the big win for the second week in a row. Maybe Dustin should thank Trevor for the inspiration in his Academy speech.

Eden on Connie's dish: "That marrow chimney! Can that happen every day, please?"

Chris on Nicole's dish: "An absolute French-Canadian fever dream."

Chris on Dustin's dish: 'I've come to your restaurants as a critic… this is the best thing I've ever had of yours.'
As for Trevor and Curtis? Well they found themselves in the middle of the pack with their respective Toronto Prawn Mousse-Stuffed Halibut and Saskatoon Braised Short Ribs. Since Trista's Vancouver-inspired dish made Mijune want to "cry for her city," and Jesse's Winnipeg pierogis were likened to cardboard, those two were easily placed at the bottom of the night. Dennis had a tough go of it as well when his Calgary inspired, tableside-carved Tomahawk Steak went beyond medium rare, giving him that (dis)honour as well.
There was just no saving Trista though. Between the terrible squid ink presentation on her BC Salmon and Dungeness Crab and the Asian components that the judges said lacked any actual Asian flavours, Mark declared, "this dish would close your restaurant. It's that bad." That meant Trista's time was glaringly up in this contest, and all for over thinking it. Well, at least she wasn't sent home for serving up plastic wrap this time.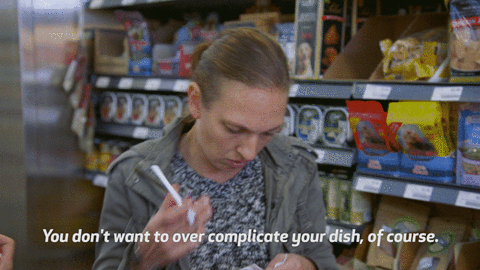 Trista should have listened to Professor Curtis.
"She made such a confused, weird, frankly not-really-edible dish and when she was describing to us what she'd done, she just said, 'I kept going and going and going and I didn't know when to stop,'" Nuttall-Smith said. "It's not ever a happy moment when you see a chef kind of fall on their face."
"Trista has such heart, such soul. Her cooking is often really personal and really smart and at its best it's really breathtaking stuff. I think the piece that she's not missing but could use more of in her career is confidence," Nuttall-Smith told us. "Trista second guesses her cooking, she second guesses her flavours. The thing that would help her the most is to get out to do some exploring and then to come back and confidently cook her food. When she cooked her food, I think she was brilliant. If she can do that, I think she's going to be unstoppable."
"Of course it sucks. I said to myself when I came onto All-Stars that I'm not going to get as upset as I did last time and I'm not going to let a technical thing come in the way," Trista said later on. "I had a bad day. I sh*t the bed on a plate. It didn't make sense and I have every right to go home."

Not as delicious looking as the top 3 dishes: Trista's Vancouver-inspired Salmon and Dungeness Crab with Squid Ink.
And here we really, really thought she was a frontrunner. It just goes to show you that no matter how great you've done in the past, you're only as good as your last dish on this show. It seems like these judges know it, too.
"Trista came a long way. She understood what it was to win, which was fabulous because she's always buckling at the knees at Judges Table." McEwan recalled. "And it was so much fun to see her have those great successes. There's a young chef that brings her all, every time she comes. She doesn't always hit it, she can really miss, but when she swings for the fences, once in a while, she hits it and it was fun to watch."
Enjoy that bottle of wine you took with you, Trista. We're certainly raising a glass to you.
Remaining chefs take note: ride your highs as they come because you never, ever know when one small misstep will send you packing. And someone will definitely be sent packing next week.