It must be hard work sampling all of that Top Chef Canada: All-Stars cuisine every week. We imagine that for every ridiculously rich sauce and succulent, saliva-inducing bite that the judges take, their tummies would need a little alka seltzer or Tums to balance it all out. So we can forgive head judge Mark McEwan for taking a break during this week's Quickfire Challenge, especially since it meant we got guest judge Chef John Higgins (who also happens to be the director of the George Brown Chef School, a Chopped Canada judge and Andrea's mentor) as his stand-in instead.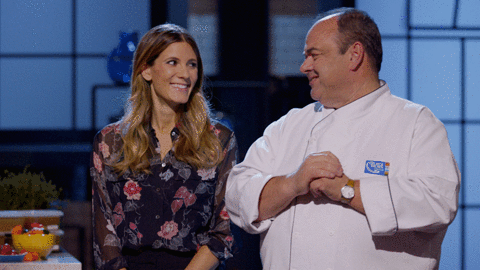 Higgins (and host Eden Grinshpan) certainly hit the mother lode in terms of flavour profiles when he tasked the 10 remaining chefs with creating one of Auguste Escoffier's five "mother" French sauces, pitting the chefs against each other as they drew for their respective saucy fates. The theory goes that if a chef can nail the base sauces, he or she could go on to do anything in the kitchen, from mac 'n' cheese to chicken pot pie and every comfort food in between. So naturally all of the All-Stars should be able to nail these sauces, because otherwise they may as well be the Swedish Chef. That's how important this Quickfire was, people.
Andrea, who was so sure she could kick Curtis's butt in the béchamel category didn't exactly earn an 'A' when her sauce proved thicker than her challenger's. Maybe she didn't get the memo that slow and steady wins the béchamel race? Either way she shouldn't feel too bad; Dusty similarly failed to "wow" in front of his mentor, Susur Lee in Episode 2.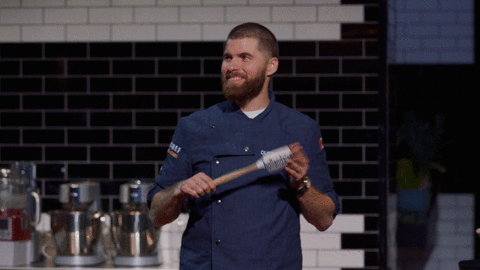 These two…amiright???
Speaking of Dustin, it was mano versus mano when he and Dennis—who has a thing for clothes pins on his apron — both drew Hollandaise sauce. Their ensuing showdown proved that a D & D spin-off series is the show none of us knew we needed. We'd watch the heck out of those two cooking together or travelling around Toronto, sampling food from other chefs' kitchens.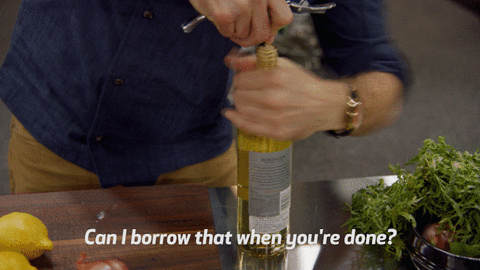 Meanwhile it was Trevor versus Nicole in a sauce tomate battle royale, Connie versus Trista in a scrimmage of that traditional brown sauce known as espagnole, and Jesse versus Jonathan in a very velouté showdown. In the end it was Dennis, Nicole, Trista and Jesse (with his luxurious sounding lobster velouté ) who moved on and were then tasked with creating a dish in just half an hour that showcased their winning sauce. Although we really, really wanted to just take a bath in Jesse's Seafood Casserole, it was Nicole's Lamb Provencal, a.k.a. Seared Lamb Chops, Eggplant, Nicoise Olives and Almond Gremolata that won over Chef Higgins and Eden's stomachs. It was enough to land her the coveted immunity and a huge advantage in the Elimination Challenge: she got to assemble her own Top Chef Canada team in the first group face-off.

Nicole's Lamb Provencal with eggplant, nicoise olives and almond gremolata.
Nicole did what any sensible chef would do in that moment, and picked the team that she felt she'd have more fun competing with. That included Dustin and Dennis (naturally), Andrea (because, girl crush) and the wise-cracking Jesse. You know, all the chefs we'd want to knock back beers with.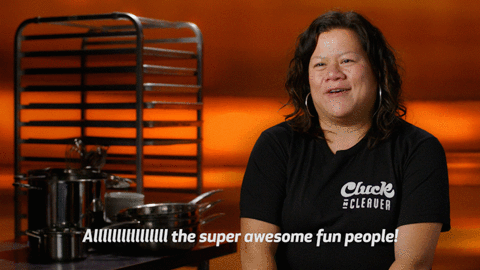 Squad Goals.
Meanwhile, Trista and Connie were teamed up with Curtis, Jonathan and Trevor, who has kind of pitted himself as the underdog so far this season. The night's task? To create a Middle Eastern feast of five mezze (appetizers), three mains and two desserts for the judges, guest judge Sabrina Ghayour and guest taster Suresh Doss at Mark McEwan's Aga Khan Museum restaurant.

Sabrina Ghayour at the tasting table.
Right away it was obvious that Nicole's chosen ones were jiving together, whereas the other team seemed to lack the same cohesion. From the time they set foot in specialty grocery store Adonis (with a trusty 100 bucks in their Interac accounts), it was utter mayhem—as tends to happen when you've only got 20 minutes to shop for a feast. Obviously, some handled it better than others. While Trista looked lost without her pomegranate molasses, Jesse managed to collect his head in order to purchase actual lamb heads for his tagine when he couldn't find goat. Hey, when in Morocco you've simply got to go(at) with the flow…
Back in the Monogram Kitchen the chefs had two hours to prepare for service, which meant even more running around for the chefs like they were lambs with their heads chopped off (#SorryNotSorry). There were so many delicious ingredients flying around, like halloumi and orange roughy and pomegranates and pine nuts… we've never longed to smell a show before but this week we came pretty close as the hunger pangs set in. And no, the stale almonds in the cupboard certainly did not satisfy from our couches.

Andrea's kibbeh nayyeh – lamb tartare with harrisa labneh and za'atar crisps

Nicole's shish tawook fritter – walnut fritter stuffed with garlic chicken, served with pickled turnip.
At judges' table, the theory behind Nicole's teammate choices rang true when Team One nailed their mezze. Mark McEwan, Mijune Pak and Janet Zuccarini dug in alongside Sabrina, Suresh and Eden, as they all practically licked Andrea's Lamb Tartare plate clean. Meanwhile Jesse's take on a saffron-infused Fish Dolma was unconventional but completely celebrated by the judges, Nicole's Walnut Fritters were devoured, Dennis's Tabbouleh Salad hit all the right notes and Dustin's Hummus-Baba Ganoush hybrid was a genius flavour combination that had everyone gushing.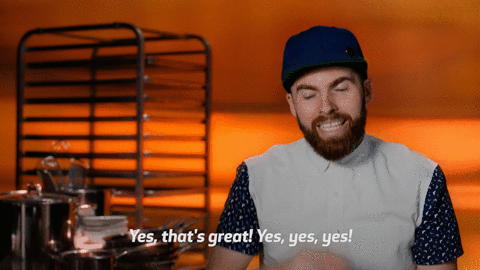 Team Two didn't fair nearly as well with their mezze, which the judges said lacked overall flavour. For starters the dishes were all pretty much all vegetarian, which would be fine in a vegetarian restaurant but not so much on Top Chef Canada. But more importantly the presentation felt like five separate dishes with no cohesiveness; a big no-no when it comes to a progressive feast.
Unfortunately the mezze was more than a stumble for Team Two. When it came to the main event, Connie's Preserved Lemon Chicken and Trista's Almond Cake dessert couldn't save the guys on the team, whose dishes ranged from "incredibly bitter" (Trevor) and "lost in translation" (Jonathan) to "medicinal" (Curtis). In fact we're still waiting to see if Janet's unwelcome high from Curtis's Saffron Ice Cream has come down a little. When compared to Jesse's Lamb Head Tagine (yes, it turned out to be delicious), Nicole's old-school Poached Trout and Dustin's winning dish of the night, deboned, Honey-Glazed Quail fried à la Susur Lee, well it was obvious that Team Two was going to send someone packing.

 Dusty's honey glazed quail was stuffed with chicken farce and served with roasted dates, pearl onions and figs. Sabrina Ghayour exclaimed, 'This dish hits all the bells of what the Middle East is about.'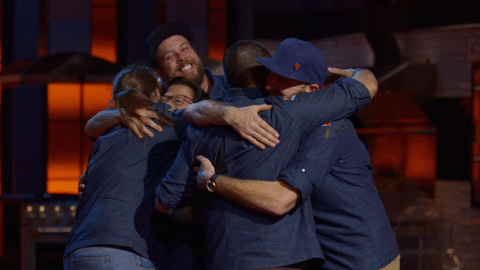 And again…Squad Goals.
In the end there were no heated words exchanged about the quality of the food or defiant defenses about how a dish would have held up in a real restaurant, as Jonathan packed his knives without any pushback.
"Right now I'm feeling disappointed that I wasn't able to really focus… not just on my dish but to help my team put together a stronger menu," he said afterwards. "It's a relief not to have to continue to compete. It's not easy cooking with such a strong troop of people, but they are awesome."
"I remember his food from the first time we met him and it was far more entertaining and robust and flavourful and full of coconut milk and chili and pizzazz," McEwan said later on. "He's kind of gone to a very healthy, vegan-ish focus, but I thought he lost a lot of his thunder in doing that. I didn't see the Jonathan that I remember… so I was disappointed."
We expected the second-season finalist to go a little further in the competition, too. Like Eden pointed out at judges' table, throwing a twist into something you've made many times before just doesn't cut it on Top Chef Canada: All-Stars. "I don't know what's next for me yet, I'm at a serious crossroads in my life," Jonathan revealed in his exit interview. "I'm trying to digest all of the emotions of going through this competition myself and I hope once that comes through I'm able to show my passion for food adequately. It may be humble and it may be simple, but it will be delicious."
Get More Top Chef Canada!
Bonus Scene: Trista and Connie discuss team blunders after finding out their safe from elimination.
Bonus Scene: Nicole can't find her cart during Elimination Challenge grocery shop.