There have been quite a few foodie trends we've desperately wanted to forget about lately: pumpkin spice in everything from doughnuts to dog food. Rainbow-hued foods that look like a leprechaun threw them up. Slurping up smoothie bowls with a spoon rather than enjoying the perfectly respectable breakfast drink with a nice, tall straw.
So the return of Top Chef Canada and its top-notch contestants that showcase what real culinary innovation looks like couldn't have come at a better time. Twelve of the most memorable chefs from the past four seasons walked through the Toronto Monogram Kitchen doors on Sunday night to prove their knives are sharper than ever, leading us to believe that Top Chef Canada: Retribution would have been an equally memorable title for this balls-to-the-wall, All-Stars season.
There are the former finalists, like Jonathan Korecki, Trevor Bird and Connie De Sousa, who were so close to victory the first time around that they could taste it. Then there are underdogs, like Dennis Tay, who competed the entire third season with a broken arm, Dustin Gallagher, whose goofy kitchen antics had us all affectionately calling him Dusty, and Trista Sheen, who was sent home mortified for having plastic wrap in a dish served to the judges. And we can't forget about the rest of the gang, from Tasmanian devil Nicole Gomes and our outspoken girl-crush Andrea Nicholson, to Roger Centre's executive chef Elizabeth Rivasplata, Atlantic sauce-king Jesse Vergen, the opinionated, reformed chef Todd Perrin and of course, one Curtis Luk whose dishes are as refined as his newly sported ponytail.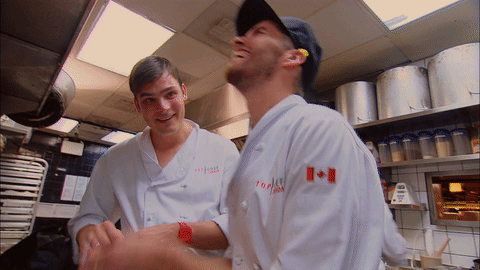 Season 1 Class Clown Dusty
Of course the most familiar face of all came in the form of returning head judge Mark McEwan, who welcomed the chefs back with his scruffy smile before introducing incoming host Eden Grinshpan. She takes the reins from Lisa Ray and original host Thea Andrews, who were obviously talented, but the fact that Eden is a graduate of Le Cordon Bleu gives her some serious cred; especially with this group of chefs. We all love to eat but being able to make food of the same caliber as the food you're judging? Now that just makes you a super host. (No offense, Padma.)
But we digress. This ragtag group didn't come together to mingle over some wine and appies, they came to restore their good names. So with the formalities out of the way, it was right down to business with the Quickfire Challenge: create a dish that represents either spring, summer, fall or winter, depending on which knife they drew. How very Canadian.
Because nothing screams pressure like a gigantic wall clock counting down your time, the chefs had exactly 25 minutes to showcase their respective seasons while refining a dish that would blow Mark and Eden's minds… er, tastebuds. As ovens were snipped and contestants figured out how to plug in the appliances, a "duck-off" between Jesse and Dennis ensued while Curtis screamed "behind" every 30 seconds. Hey, we all kind of lose it under pressure. Anyhow, it was as frantic and chaotic as the chefs remembered, only with "awesome-er competitors." (Don't ever change, Trista.)

Dusty's Moroccan-style salad with roasted eggplant, chermoula, quinoa, black currants and olives
We aren't sure what Curtis was thinking with his Grilled Asparagus and Zucchini dish, but a few bacon bits weren't exactly what we'd call protein. Meanwhile, Dennis' Honey-Glazed Duck and Bread Pudding presentation was clearly whack (or is that quack?), landing both of them at the bottom of the pack. They should have just tossed together salads, since that was clearly what Mark and Eden were in the mood for: both Connie's Wintery Charred Kale salad and Dusty's summery Moroccan-inspired Roasted Eggplant salad were the winning dishes, with Dustin edging out Connie for immunity.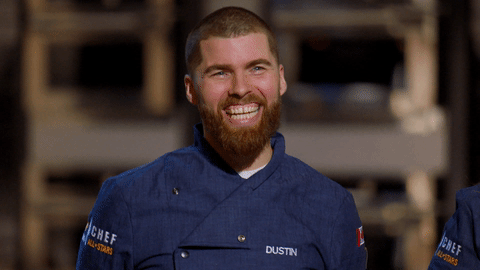 In related news if the lights had bombed at that exact moment, Dustin's pearly whites would have kept the entire kitchen extremely well-lit. To be honest, we're surprised it didn't automatically power up Nicole's appliances.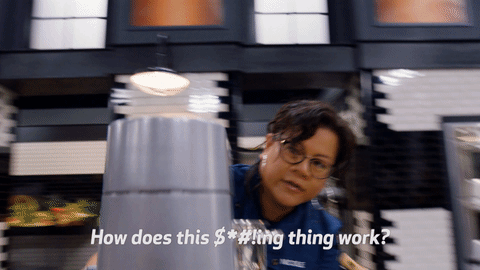 This is Top Chef Canada, so there's no time for celebration — not when the Elimination Challenge still has to be sorted out. And because fate is a cruel mistress, the challenge taskmasters thought it would be a fun twist to have these returning chefs redeem themselves using the same ingredients that sent them home the first time around. A.K.A. one chef would be sent home twice using the same ingredients. Cue the Dr. Evil laugh track, guys. But on the plus side, the winner would score an extra $5,000.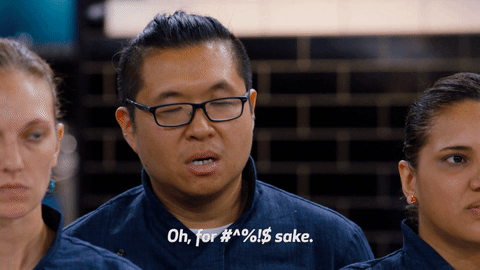 Curtis says what all the chefs are thinking.
Luckily, the contestants had tons of time to figure out exactly what they were going to do in order to impress Mark, Eden and the three new resident judges, former Toronto Life and Globe and Mail food critic Chris Nuttall-Smith, Follow Me Foodie blogger Mijune Pak, and restaurant owner and entrepreneur, Janet Zuccarini. That meant two-and-a-half hours of prep in the Monogram kitchen before trekking over to Toronto's gorgeous French rooftop eatery Lavelle, where Chef Romain Avril lent out his kitchen for another hour. You'd think that would be plenty of time to create an All-Stars caliber dish, right? We know we'd be able to make at least two boxes of macaroni and cheese in that time.

Trista's "Scarborough" pot-au-feu with jerk chicken, potato, carrot and fennel with a carrot, chard and corn pistou.
It was certainly enough time for Trista, whose Scarborough-representing Jerk Chicken Pot-Au-Feu (French beef stew) wasn't just free and clear of plastic wrap, but it was pretty darned, well, pretty! We were equally impressed with Andrea's juice-dripping bison, Connie's chocolate soufflé with peanut butter ganache, and Curtis's gussied up tuna casserole,  but in the end the judges decided Trista's dish was the one worth five grand.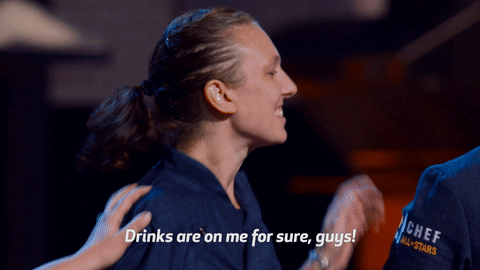 "She used jerk chicken, there was amazing spicing," the hard-to-please Nuttall-Smith recalled to us later on. "The flavours were fantastic, I loved the ideas behind it. I loved the soul and the personality behind that dish. That really stuck with me."
Unfortunately, some of the other chefs just didn't get the memo that they're competing in an All-Stars edition this time around. Dusty, who was pretty lucky he had immunity, cobbled together a fruit plate on top of a blueberry olive-oil cake. Meanwhile, the bottom three consisted of Todd and his mushy cobbler, Jonathan's tasteless curry and Elizabeth's overly crispy pig ears. While we were pretty sure Todd's flare up towards Mijune's comments about his dish not working within the context of the competition were going to land him on his keister, it was Elizabeth who was sent packing first. Turns out people just don't like gnawing on pig ears.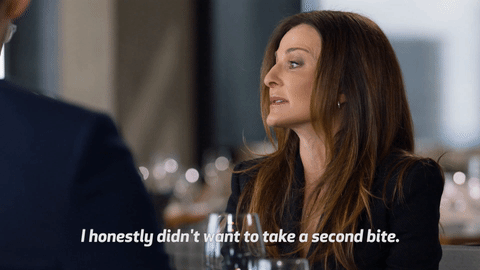 "I'm exactly in the place where I didn't want to be," the executive chef of the Rogers Centre said in her exit interview. "It sucks. I left during a really busy time of the year and to leave in the first episode wasn't even in my mind. I over-thought the dish. That was my mistake and I own that. I thought it was going to be Todd. But anybody can go home. I'm going home because of pig ears… what can I do?"
Ultimately, Elizabeth just didn't bring her A-Game. At least not according to Mark McEwan.
"She showed more the first time I saw her," he said after the competition. "She certainly showed less this time and I think her nerves got the best of her; that can happen. It's easily done. And I think she fell victim to that."
And now that those kitchen knifes have been sharpened, let's see who falls victim next week, shall we?
Want more Top Chef Canada? Watch bonus scenes not included in the premiere episode.